Justin Welsh
has helped build two $50M ARR companies, teams of 150+ people, and raise over $300M in venture capital. Then, in 2019, he burned out. Now he runs a boutique advisory firm for entrepreneurs and creates digital products for creators.
From his newsletter or his various courses, Justin is using
Testimonial.to
to grow his solo business to $5M in revenue.
By now, Justin has collected countless shoutouts including 30+ video testimonials which he uses across his website.
Watch the video and read on to get a better idea of how your course business could benefit from capturing video and text testimonials.
What's going on, my name is Justin Welsh and I have been a customer of

testimonial.to

for a little over six months and I run a bunch of different online businesses including a few different course businesses, newsletter subscriptions, a few things like that. Before I used testimonial.to my landing pages were pretty similar to other e-commerce landing pages in terms of conversion. I think they were converting anywhere from 1.2% to 1.6% of visitors that visited each landing page and I installed testimonial.to because I saw it on a lot of other course creator websites and I really liked the way it looked and the way that it brought testimonials both text and video to the forefront and really showcase the people who love your product. So I started using it and over the course of the last six months, my conversion rate has gone from that low-mid 1% up to about 3.6%. So it is literally almost 3X'd the conversion on my landing page which is a huge boost in revenue for me and my business and for $70 a month or $60 a month or whatever I pay for the solution it is extraordinarily well worth it. It generates thousands and thousands and thousands of dollars so the ROI for me is massive. I can't think of another tool that has, for the cost, brought such massive ROI so I recommended it wholeheartedly to every client that I work with, anybody selling a course, a SaaS, a service, anywhere that you want to showcase the testimonials from your power-users testimonial.to is the only tool that I would recommend. So I hope you find that helpful, have a great day! Justin Welsh -
As a course creator, when someone visits your website you want to make them feel confident that your material will bring them value. The best way to do that is by showing as much social proof as you can on your website by using text and video testimonials as well as reviews.
In this case study, we will show you how Justin does it so that you can replicate it 🙌
Learn how Justin Welsh utilizes Testimonial.to, and how you can do the same.
Display testimonials on your website
If you're looking for a quick way to boost your conversions, the simplest way to start is by displaying testimonials on your site. Here's a video showing you how Justin is displaying testimonials and reviews on his website:
Collect testimonials from within your course
When it comes to collecting testimonials, it is all about timing! So Justin does this during the course by embedding the widget within the platform you are using.
Here are some things to keep in mind;
It is towards the end of the course, in the bonus section
The video explains why you may want to give a video testimonial
The collecting widget is embedded within the course platform
It has a video and text testimonial option
Here's a screenshot 👇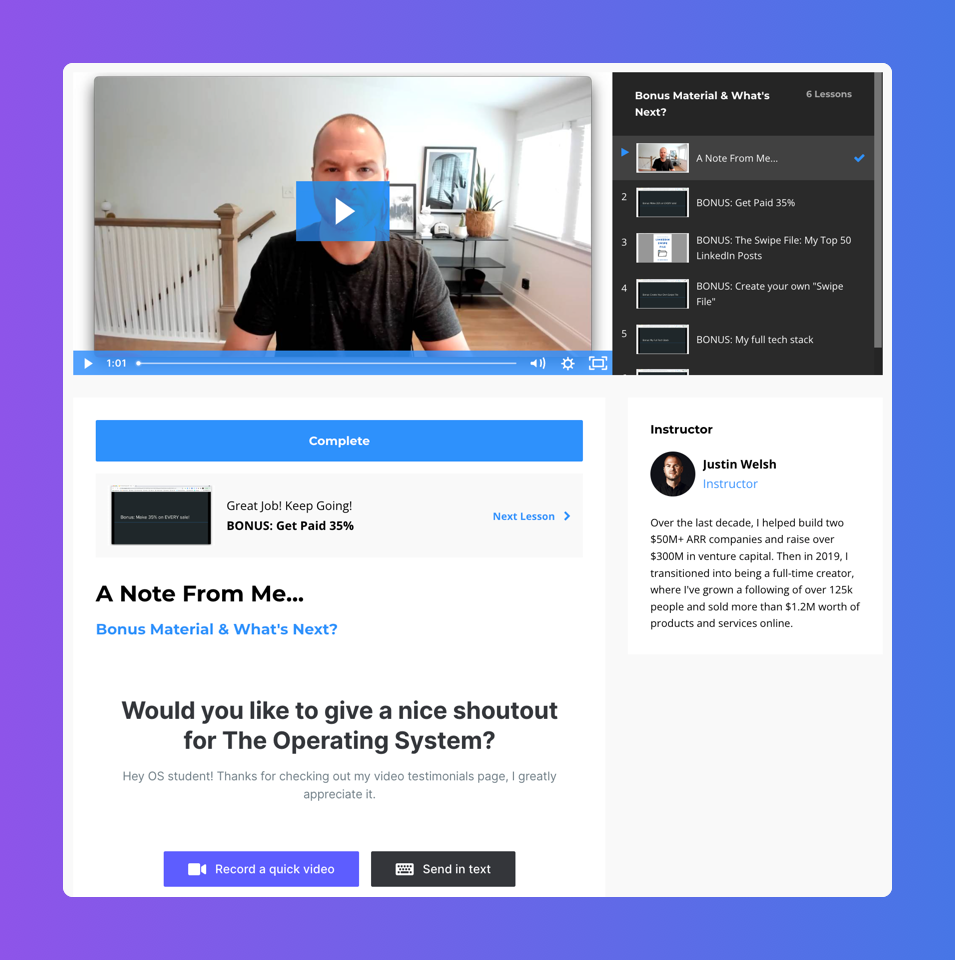 Find sponsors by showcasing shoutouts from previous sponsorships
When looking for sponsors, the best way to sell your newsletter ad spot is by showing the results from previous sponsorships. Justin does this here by showing four different testimonials and giving a good idea of the results to expect.
Showcase testimonials from people relevant to your niche
Most courses are targeting a specific niche, the best thing you can do to increase your conversion rate with your testimonial strategy is to display testimonials from reputable people within your niche.
Include them within your newsletter or blog posts
After capturing testimonials, the sky is the limit when it comes to what you can do with them. For instance, you can feature them within your newsletter by
creating images from them
or even including them within a blog post when relevant.
Be genuine and offer some exposure in return
As we
mentioned already
, at the end of his course Justin asks for testimonials. Instead of simply creating a text field, he created a video. This alone will increase the number of video testimonials you will receive over text testimonials. He is asking for testimonials in a genuine and kind way and even offers exposure in return!
Getting Started with Testimonial.to
Display: Show testimonials on your course website with no-code
As you'd expect from the #1 testimonial solution, we integrate with any course platform that supports embedding HTML code. You can find all our integrations by visiting
testimonial.to/integrations
Collect: Turn shoutouts into social proof
Testimonial lets you collect social mentions, videos, and testimonials to display on your website all in one place. Instead of feeling overwhelmed. Stay on top of student shoutouts and put the words of raving fans on your website.
✅ Twitter ✅ LinkedIn ✅ Instagram and
many more
.
Wall of Love: Skyrocket your website conversions
Curate your testimonials into a high-converting wall-of-love to add to your website (with no-code) so you can save time adding testimonials to your website — skyrocket conversions — and focus on revenue-generating activities.
Automate: Set and forget testimonial collection
Embed the testimonial submission widget to your course so you never forget to ask your students to leave their testimonials — start building a library of testimonials to skyrocket course sales automatically.
This is how Justin automated the testimonial-collecting process on Kajabi, just by embedding the submission widget at the end of his course.
Don't take our word for it. If you have a course, just like Justin you can almost 3X your conversions by using
testimonial.to
! We've made it and stayed in his tech stack for a reason 🥳
We did a full video to walk through how Justin uses Testimonial.to. You can check it out here:
Written by