If you're looking to add some social proof to your website, Yelp reviews are a great way to do it. In this post, we'll show you how to embed Yelp reviews on your website in just a few easy steps.
Embed a single Yelp review
First, head over to the Yelp page for the business whose reviews you want to display. In the "Reviews" section, for each review, you will find … icon on the top-right corner, click on it and select Embed review from the dropdown list.
It will open a pop-up modal like this 👇 Simply click on the red Copy Code button to copy the embedding code.
Now that you have the embed code, you'll need to add it to your website. If you're using WordPress, you can do this by adding a new Custom HTML widget to your page, then pasting the embed code to it. Here we use Codepen for the HTML copy-paste demo:
And that's it! You've successfully added a Yelp review to your website.
Embed multiple Yelp reviews
If you have tens of Yelp reviews, or even more, you definitely don't want to embed those Yelp reviews one by one. You need a more scalable way to embed multiple Yelp reviews all at once. Now let's take a look at how to add multiple Yelp reviews to your website.
That's where
testimonial.to
comes in. It's a platform that lets you embed multiple Yelp reviews on a
Wall of Love
on your website.
To get started, you need to create a new Testimonial account, for free. In order to start importing Yelp reviews, you need to create a space for your project. Space is a container that will hold all your Yelp reviews in one place.
Once you've created a space, click on the "Other reviews" tab on the left sidebar.
You'll find the option to import Yelp reviews.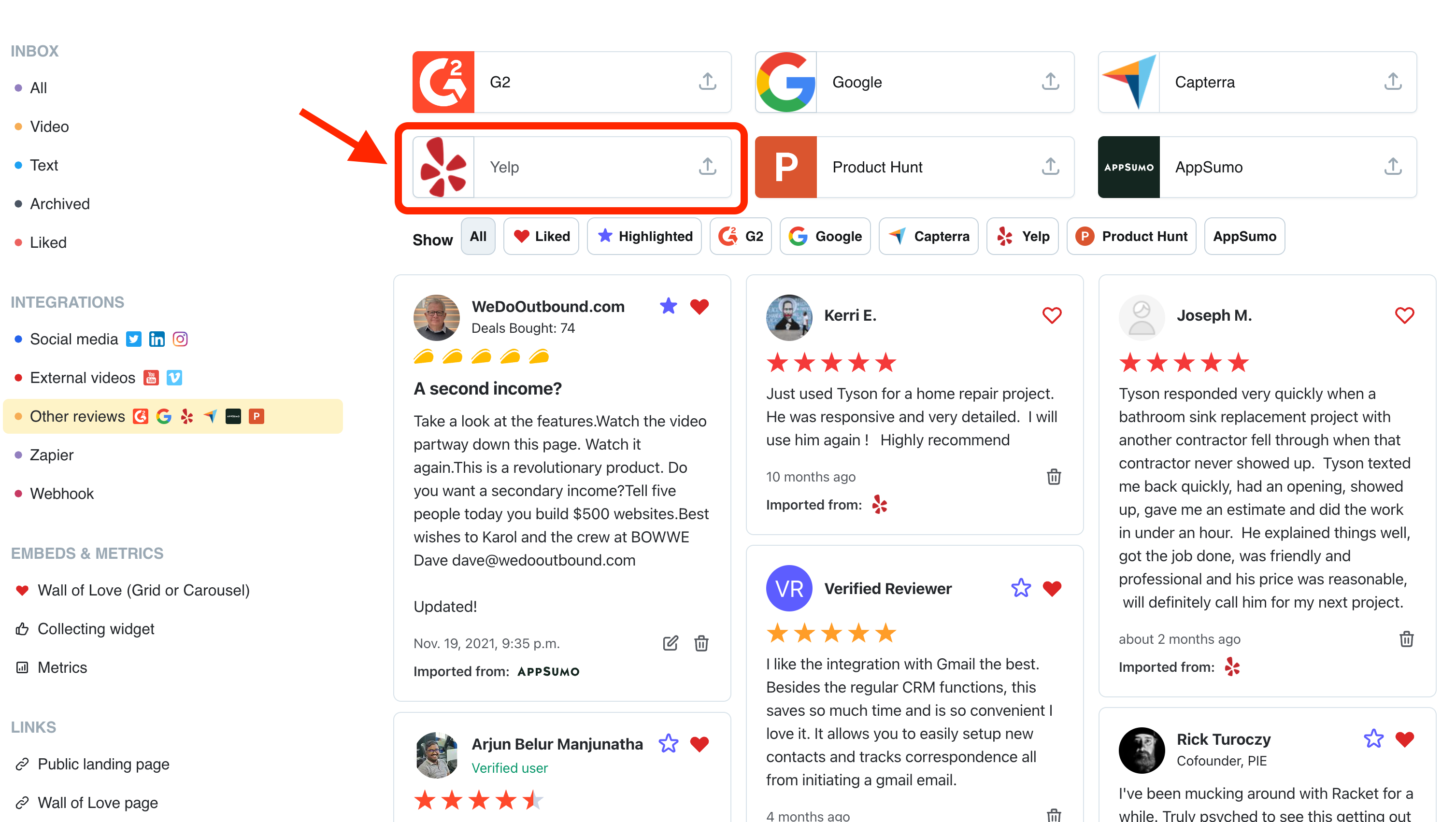 A quick video demo to show you how to import reviews from Yelp:
After your Yelp reviews are imported, copy the embed code from your Testimonial space and paste it onto your website.
That's it! You've successfully embedded multiple Yelp reviews into your website in one shot. The wall of love on your website should look like something below:
You can use
testimonial.to
to import not only Yelp reviews but also Google reviews, G2, Capterra, etc. Feel free to give it a try!