If you are already collecting user testimonials, you probably know that not everyone is ready to take the time to share a testimonial with you.
This is very common, sometimes you need to motivate them with gifts or rewards in exchange for a testimonial. It's a win-win situation for both parties; they receive a small gift, and you get a testimonial that comes with numerous
benefits
.
Collect more testimonials with incentives
If you plan to run an effective campaign to collect testimonials or want to generate more testimonials, there are a few things you must do beforehand.
Factors that will help you get more testimonials:
Make sure your users are satisfied with your product
Have a simple & effortless testimonials collection process that can be achieved by using a tool like Testimonial.to
Motivate your users to provide testimonials by offering incentives
We have discussed the first two points in our
past blogs
, and now we'll talk about the third.
Why provide incentives?
People are quite busy, they don't always want to take the time to share a testimonial. Others are shy and wouldn't record a video testimonial, we could go on and on with different examples.
One of the best ways to navigate this is by offering an incentive to them.
These incentives can be in the form of gift cards, physical gifts, donations to charity, or even discounts towards your product renewal/upgrade.
Now, with our new partner Verdn you can even plant trees or clean up the ocean!
Here's a quick snapshot of how you can have an effective testimonial collection email campaign.
The process to add incentives for a testimonial
If you are already using
Testimonial.to
then the process is pretty straightforward and can be easily automated. Let's go through the steps one by one.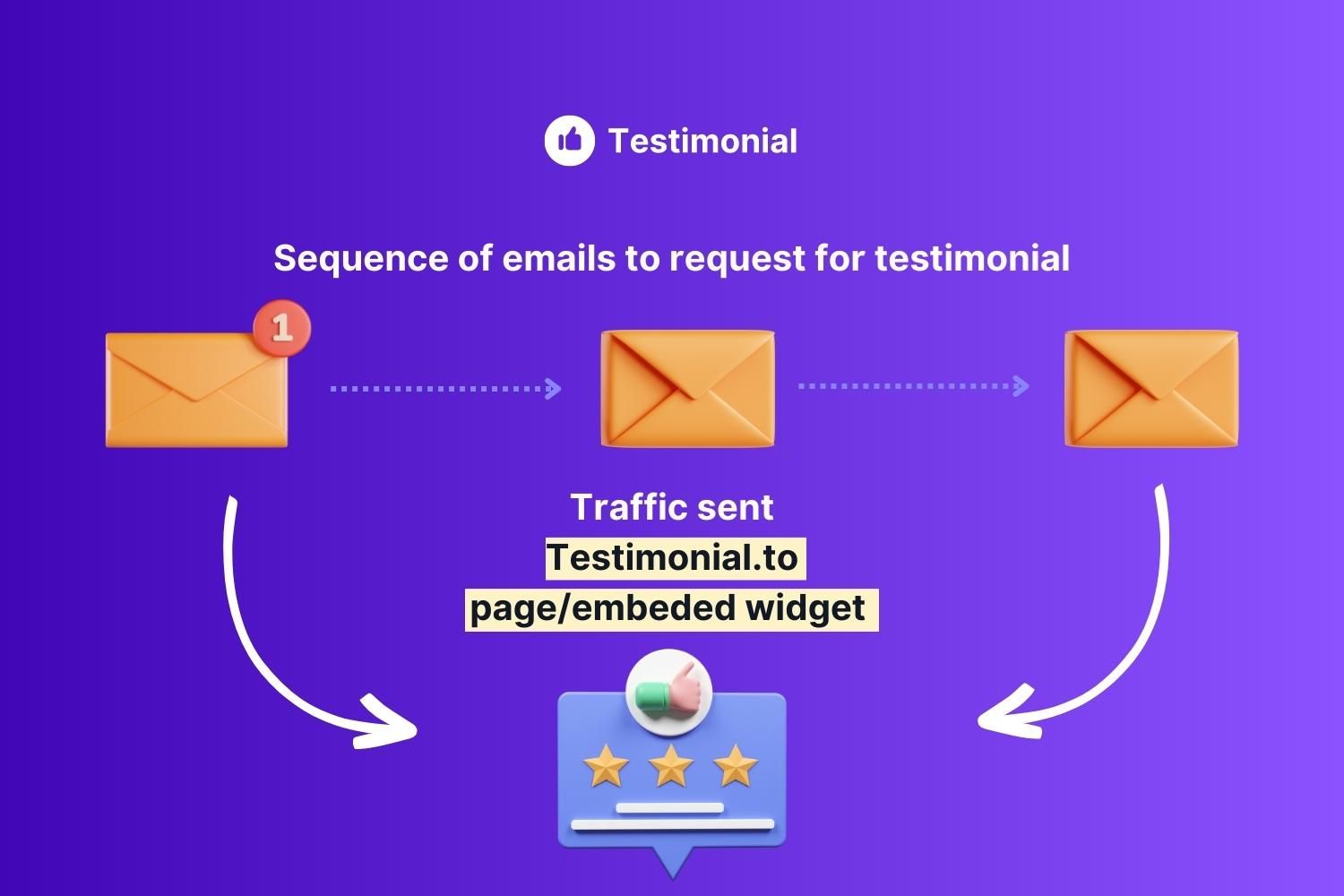 Update messaging: The first and most crucial step would be to inform your users about the incentives you will provide in exchange for their testimonials. You need to update the messaging in all the places where you've been asking for testimonials.
Send them to your Testimonial.to: The next obvious step would be to send them your Testimonial.to page or your website with the embedded widget for them to leave a testimonial and do ensure that you make the "email" field as compulsory - otherwise, you won't be able to send gifts/rewards.
Automate the rest: Now, the last step is to deliver the gift/reward you've promised, which can be quickly done by connecting Testimonial.to to Zapier, which will do the rest for you.
Ways to incentivize testimonials
There are multiple ways to reward your users for a testimonial, and that would be a pretty big list, but here we'll talk about a few best and most widely used ones.
Gift card
Gift cards are an excellent choice when it comes to rewarding your users. The key benefit is that you can decide what your users would appreciate or give them an online prepaid card that can be used anywhere.
A truly versatile solution.
There are two ways you can implement this; let's have a look at both of them.
Using Testimonial.to's inbuilt feature
You can use our inbuilt reward feature to send your customer a gift card for their testimonial.
For this, you need to turn on the Reward program when creating a new space or editing an existing one. You need to specify the gift card amount for each customer (US dollar in currency). Here is a quick video on how to do it 👇
Using Giftbit
Another way of achieving this is by using Giftbit's Zapier integration.
To set this up, you can visit your
Testimonial.to
dashboard and navigate to "Automation" under the "Integration" section. There you can find Giftbit integration with us using Zapier.
Just click on use this Zap, upon which you'd be asked to connect both Testimonial and Giftbit accounts and select which gift card you want to send.
Send physical gifts
Who doesn't love receiving gifts? Most people do and appreciate that.
Sending physical gifts can be another good option as it brings joy in the mind of your user.
You can use Evabot's Zapier integration with
Testimonial.to
to send branded and personalized gifts to your users for sharing their testimonials.
The setup process is similar to Giftbit; you must navigate to "Automation" under the "Integration" section. There you can find Evabot integration. You need to activate the Zap, and it's done.
Plant trees
Verdn
is another excellent tool that allows you to incentivize users to share testimonials by planting trees or cleaning up the ocean on behalf of your customers.
By integrating with Zapier, you can easily automate the process of planting trees for each testimonial received. This not only incentivizes your customers to leave a testimonial but also helps the environment and promotes sustainability.
It is a new company backed by Y Combinator, we're excited to partner with them! You can learn more about our integration
here
. When it comes to the pricing, each impact starts at $0.40, plus a monthly subscription of $49/mo.
Discount codes
Discount codes or coupons for your product are also a great way to reward users for their valuable testimonials. If they love using your product, they will surely appreciate it.
For now, we'll talk about two ways, one for Shopify store owners and the other for a general website or SaaS owners.
Shopify stores
Shopify stores can be natively integrated with
Testimonial.to
for giving away a one-time discount code for each testimonial received.
Here is a
complete guide
to implementing this, but remember you need to be on a paid Shopify plan to have this functionality.
General websites/SaaS
For non-Shopify sites, this can be achieved by sending coupon codes through email with help of Zapier.
You need to set a Zap to collect
Testimonial.to
to SMTP by Zapier to send an email with the coupon code whenever a testimonial is submitted. This even works for sending SMS like the Zapier screenshot below 👇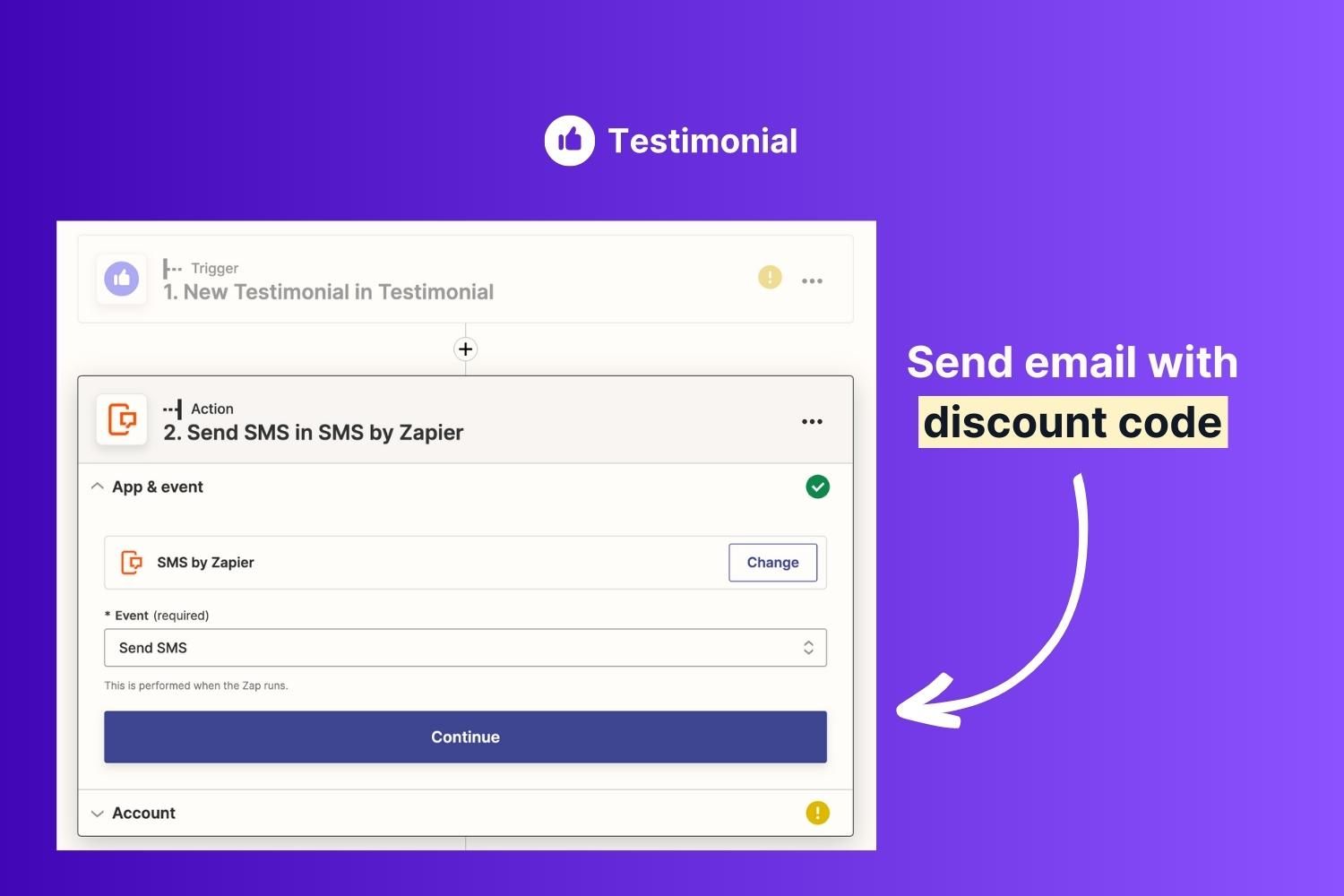 Remember to set the coupon's functionality to be used only once per account.
If you run a subscription-based business like a SaaS, one quick tip that works well is offering 2-3 months of free usage of your paid plans.
Benefits of having more testimonials
Testimonials can be true gold for business owners, as they offer several benefits.
Displaying more testimonials across your website can help build social proof and credibility for your product or service. This, in turn, can improve your conversion rate and boost sales.
Here are a few benefits that a testimonial can bring:
Increase trust: Testimonials are one of the best ways to create trust in the minds of your prospective buyers. A report by BigCommerce said 72% of consumers say positive reviews and testimonials make them trust a business more, and 88% of consumers trust online reviews as much as personal recommendations.
Improves conversion rate: Testimonials are already great for building trust and that heavily affects your conversion rates positively. Testimonials are a proven and one of the most effective ways to improve your conversions which is what every business wants.
Social proof: Testimonials also double up as social proof for your business and give a clear idea of how useful or helpful it's been to others across various domains.
Builds a customer relationship: The process of collecting user feedback and testimonials makes your users feel like they are always heard and cared for. This experience makes them more attached to your business, and this relationship helps increase the customer retention rate or LTV of your business.
Conclusion
To summarize this, providing incentives for testimonials can encourage more users to share their thoughts about your product. These incentives not only benefit you by getting more testimonials but also gives a positive experience for your users.
To start your
Testimonial.to
trial right now and start collecting testimonials.
You can always start a general testimonial collection campaign, and once you are ready, you can boost that by adding incentives.
Also, here are a few further reads that would help you more: