Professionally polished ad campaigns are common in marketing. But, user-generated content has become the trademark of modern social media marketing.
However, the element of social proof is what makes UGC an excellent tool for engagement. When potential customers see others have vouched for your product, they are more inclined to give you a chance.
So it's no surprise that top brands are looking for ways to deliver authenticity-driven marketing. But if you are a beginner, you may find it tricky to collect UGC and display it on your website.
In today's blog, we will take you through the ins and outs of user-generated content and how to publish it like a pro.
What can UGC do for businesses?
Brands collect UGC to use in social media marketing and across every stage of the buyer's journey. The aim is to boost engagement and conversion rates.
But what other benefits does it bring to your brand? Here are some 👇
Authenticity
The competition is cutthroat across industries. Buyers have become more selective about choosing products. So, brands are fighting hard to increase visibility in an overcrowded market.
Carefully crafted ads are all about brands boasting about their products. There is almost no uniqueness left.
But UGC eliminates the gimmicks of traditional marketing and brings authenticity. Advocacy from a loyal customer gives your brand a boost of relatability. With this element of authenticity, UGC marketing has become modern-day word-of-mouth.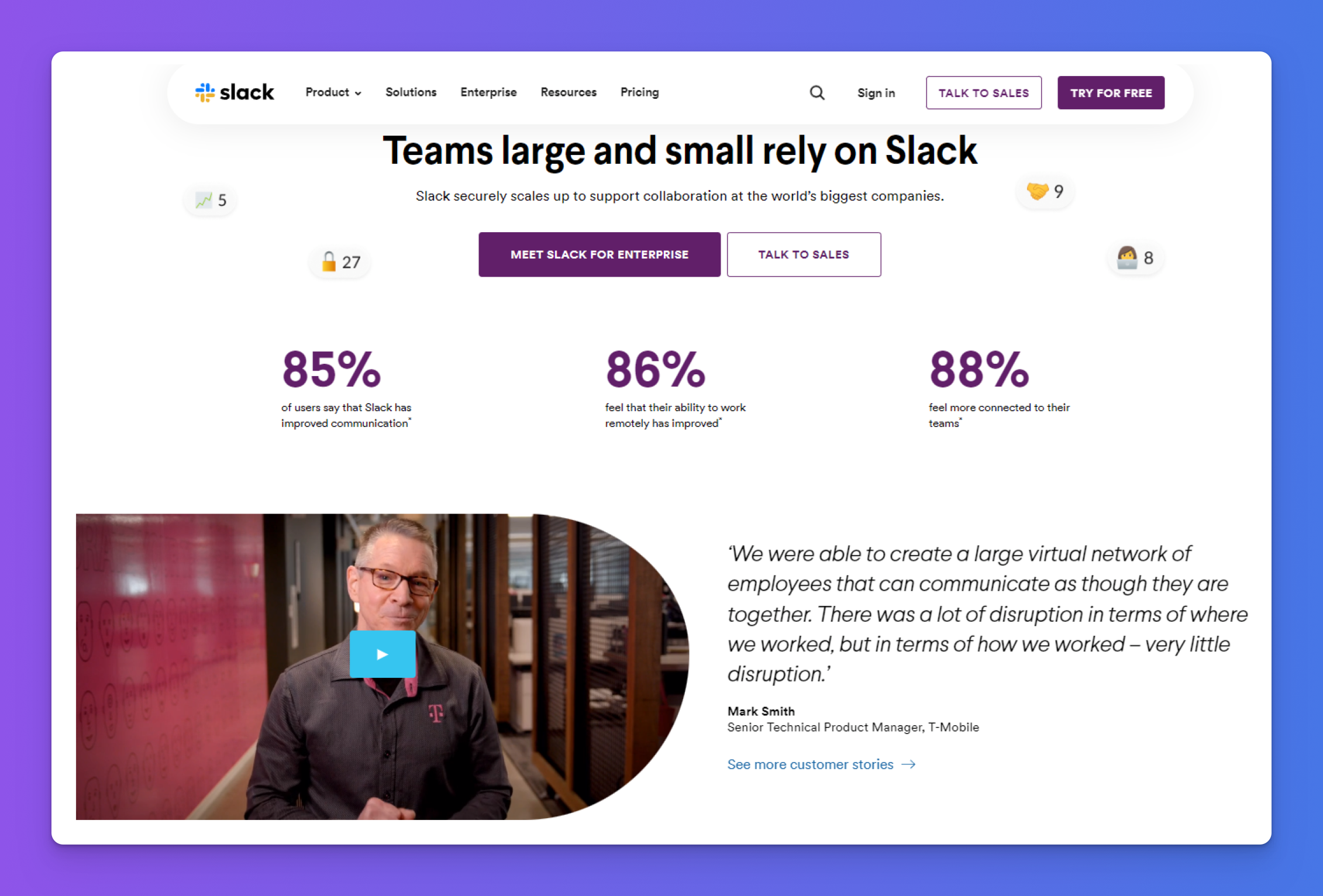 Brand loyalty
User-generated content acts as a two-way street for brands. It gives them the opportunity to connect with customers, while customers get a chance to participate in the brand's growth. It gives them a sense of value and allows them to be a part of a community.
By opening up a conversation between a brand and its customers, UGC encourages brand loyalty. It strengthens brand-customer relationships and ensures long-term engagement with consumers.
Purchase decision influence
In the final stages of the buyer's journey, user-generated content can play a crucial part. It gives the visitor the final boost of confidence in your product.
Adaptability
Another notable benefit of UGC is its multichannel adaptability. Brands can collect UGC and use them simultaneously across social media channels, landing pages, email marketing, and even advertisements.
Cost-effective
Influencer marketing and paid ad campaigns can cost companies thousands of dollars. But the expenditure of asking customers to submit testimonials is next to nothing.
User-generated content brings a touch of relatability to your marketing strategy without burning a hole in your pocket. Instead of hiring a fancy ad agency to create campaigns in bulk, reach out to your valued customers. Chances are, your loyal consumers will excitedly agree to your proposal.
Social commerce
People don't use social media for entertainment exclusively. Audiences interact with their favorite brands on Facebook and Instagram and even purchase products directly.
UGC seamlessly accommodates this popularity of social commerce. All you have to do is showcase user-generated content and plugin purchase links on the post.
User-generated content can add a lot of value to your business. However, there are things you should not be doing while conducting UGC marketing for your brand.
Using user-generated content without asking the creator.
Not giving proper credits.
Not checking if the user expects compensation for the UGC you used.
9 smart ways to collect UGC from customers
Now that we know the benefits and pitfalls, let's dive into how to collect UGC from your consumers.
Find your most impactful channels
People post their daily lives on social media. So, leveraging your digital presence is the best way to ask for user-generated content.
But for that, first, you must figure out which social media channel has a significant reach. Collect data and handpick a network where your potential advocates have the most impact.
Instead of focusing only on your existing channels, find out where your audience wants you to engage more.
For B2C businesses, Facebook, Instagram, YouTube, and TikTok are the best choices. Since these are visual spaces, they are perfect for capturing compelling UGC. You can also track Twitter mentions to collect UGC.
You can also gather data-rich content and compelling narratives posted by your users on LinkedIn. Ideally, the content should reflect the changes your products or services brought to their lives.
Ask for feedback from users
The easiest way of collecting UGC begins with asking for feedback from your customers. You can attach a feedback form to your website.
Social media is also a great channel for gathering feedback. Post polls on your stories and feed to maximize participation. Reach out to satisfied customers and ask them to post about their experience on social media or on marketplaces.
Create unique hashtags
On social media, trends change every few days. While hopping on current topics is essential for brand visibility, it doesn't allow you to collect UGC in the long term.
Creating a hashtag unique to your UGC campaign will set you apart from your competition and bring you valuable user-generated content. By searching your hashtag on social media, you can also find relevant content posted by your customers.
Brands can also use hashtags to host giveaways. Promote your hashtag and create a buzz. Then ask your audience to use it to post images, product reviews, their experience with your brand, etc.
This strategy brought the campaign remarkable publicity, and in one month, they received hundreds of submissions.
Keep the entry collection method versatile. Instead of limiting it to one or two social media channels, keep the context flexible. You can build a landing page with an entry form, or run ads on different OTT platforms.
Collecting widgets for reviews and testimonials
Offering engaging content through widgets can increase your website traffic and increase your conversion rate. Similarly, to increase participation in your UGC campaign, you can use collecting widgets on your website. This will make content submission easier for the visitor. You can also add links to the collected testimonials.
Avoid using floating widgets as they can interrupt user experience and annoy some visitors. Instead, embed these widgets on your website to give it a clean and accessible look. With Testimonial.to, you can use tags to organize and display specific reviews by product(s) for example.
Social media and import to Testimonial.to
You don't want to miss out on opportunities to engage with your audience just because some of them didn't include your hashtags. Use social listening to track conversations about your brand. This will help you find useful UGC and use them on your website.
You can post your collected tweets, IG posts or even videos directly on your website by pasting one-line embed codes. Testimonial will take care of the rest for you! ✌️
QR codes linking to collecting widget
QR codes offer a one-step to direct a visitor to your website, make payments, and much more. But businesses can also use QR codes to make review submissions easier for customers. You can even take a fun and innovative approach like Taco Bell.
You can also add them to your business cards and emails. Your customers can scan these codes and be redirected to the feedback form or collecting widget. This way, people can share reviews and photos without going through the hassle of tiring processes.
Use emails
Email outreach programs are one of the most potent tools to collect UGC. With careful personalization and the right frequency, you can successfully gather user reviews through manual or automated emails. Here's how: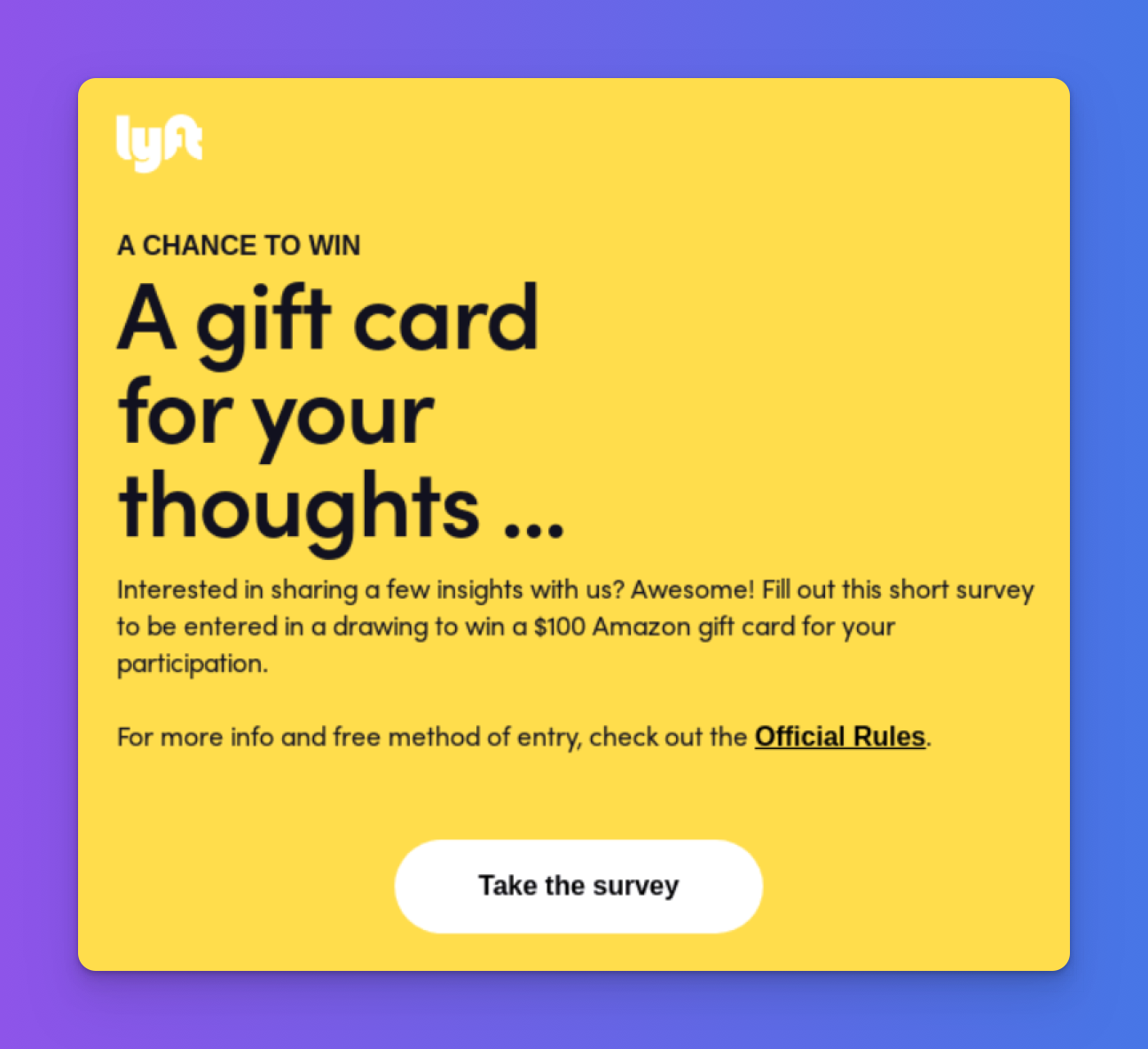 Structure templates and test them out with a small group of audience. Make changes according to the engagement results.
No matter how compelling your email is, it will be of no use if the customer doesn't open it. So, use catchy headlines to grab attention. Personalize the email by greeting the customer by their first name.
If you use automated emails, make sure the template shows effort.
Get straight to the point and ask them to leave a review if they are happy with your services. Include strong CTA buttons to encourage the customer to take the desired action.
Be specific about the type of UGC you are looking for. Don't forget to let them know that it's alright if they don't want to contribute.
Don't send repetitive emails. If they chose not to contribute or even reply, respect their decision. This will help you foster good relationships with your customers.
You can mention a small reward in the subject line to increase open rates and get more reviews for your business.
Lastly, link to your collecting widget in the footer of your emails like this example by Rewardful 👇
Use your website to collect review
Apart from social media, another useful tool to collect UGC is your own website. Simply add a review widget on your site. This makes submitting feedback convenient for the visitor while they browse through your products.
Launch a contest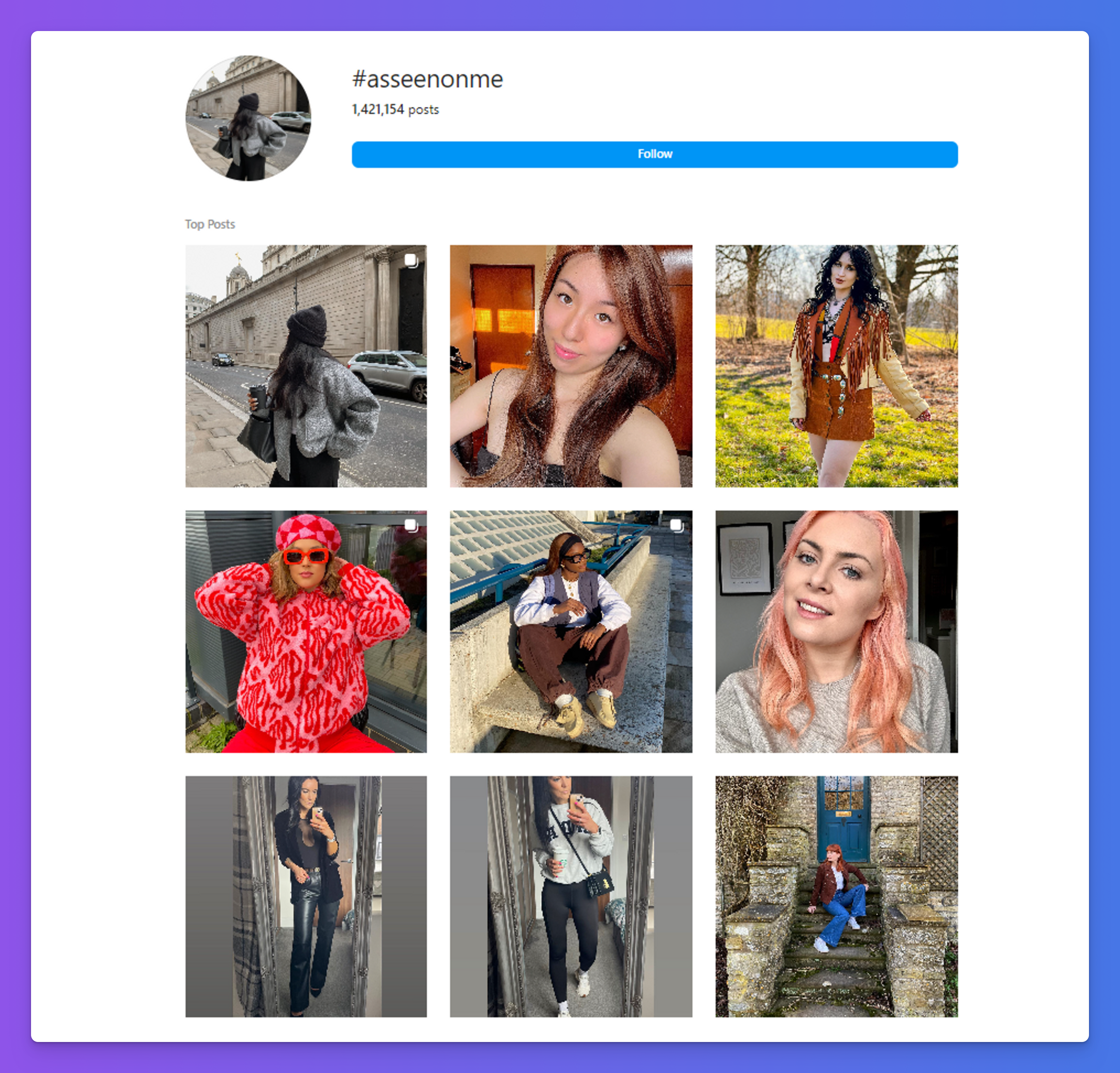 Supercharge your website by collecting UGC
User-generated content can be a breath of fresh air compared to the traditional and over-used marketing strategy. It brings authenticity and portrays a relatable brand image.
To make your UGC marketing campaign successful, here are some best practices:
Set goals and strategize the campaigns
Give credit to the original creator
For process accuracy, consider using automation to send emails to collect UGC
Keep your hashtags unique and use social listening
Leverage collecting widgets and QR codes
More than anything, make sure your products and customer services are top-notch. Your customers will be much more inclined to give positive reviews.
To drive conversion, embedding the reviews on your website is an absolute must. With Testimonial.to, you can collect text, video testimonials or even social media shoutouts and add them to your website in minutes.