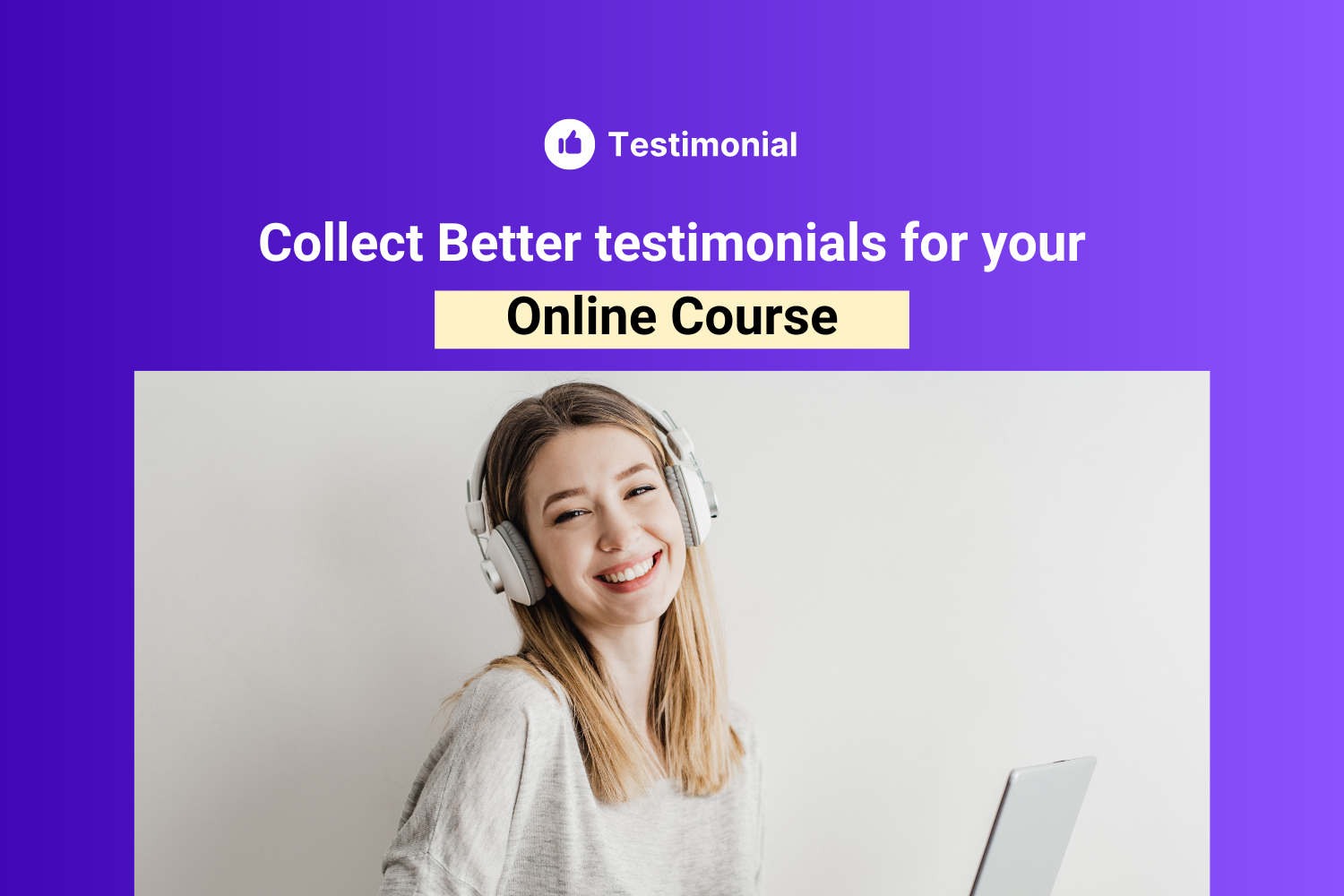 How To Collect More and Better Testimonials for Your Online Course
Selling digital products is a great business to be in right now, especially online courses.
Whether you are just starting out or are a seasoned course creator, you should know by now that collecting great client testimonials is key to increasing your sales.
I think of it like college. Would you invest in a school that doesn't have credibility?
The same happens in online education. People want to feel confident buying from an expert who knows their subject and from whom previous students have gotten positive results or had a good overall experience.
Join me as I share how you can collect more and better testimonials for your online course and become that person.
Don't Be Afraid To Ask For Testimonials
Every action has a consequence, right?
So, how do you expect to collect more testimonials if you are not asking?
You don't want to harass your students and get a bad reputation, but that worry shouldn't prevent you from finding smart ways, tools, and situations to ask for testimonials and reviews.
It's a logical "plant and harvest" situation. The more you ask, the more you'll get.
Your "asking" strategy doesn't have to be complicated or stressful.
It is just about asking.
Since every course has a different format, hosting platform, and many other variables, I can't share a perfect formula for success.
Still, you can do simple but effective things like the following:
Send an automated email, SMS, or social media message to every buyer of your course after a certain amount of time has passed or if they completed the material.
Start a social media discussion asking for feedback about your course. You'll be surprised about how positive this can be for your programs.
Start private conversations with your students about the course material and invite them to leave you a testimonial if they seem positive about their experience.
For
Justin Welsh
, the best way to collect testimonials is by embedding a Testimonial button on the last lesson of his courses:
Simplify the Testimonial Collection Process
While many people would happily leave you a testimonial if you ask, you must consider that you may miss out on some social proof opportunities if the process is not stupidly simple.
Most customers don't leave a testimonial because they lack the time or energy to add an extra task to their to-do list.
You must make the collection process as easy and short as possible (I can't emphasize this enough), or people will procrastinate and forget about it.
That is why I love
Testimonial.to
as a tool to collect and showcase customer testimonials.
Testimonial.to provides a collecting widget you can set up in two minutes and share with your clients as a link, allowing them to share their experience in text or video in seconds.
You don't need to code or design; they don't need to do anything but share their love. 😍 This is super convenient and works wonderfully in many ways.
I will dive deeper into how this tool can help you get your best testimonials ever. Those that your online course prospects will read and won't be able to forget. 💰
Guided Feedback Is Always Better
Something I love about Testimonial.to's collecting widget is its many customization options.
The top one is that you can provide guiding questions or prompts (in text or a video) so that your customers are not blank when they are to give you their review.
This may sound obvious, but it is a game changer. You are simplifying the collection process and telling them what to talk about to give you an output that serves your marketing purposes better.
If you have tried it before - asking your customers to "leave a review" can be a hit-or-miss.
Guiding your customers to talk about specific aspects of their experience is a best practice you should always pay attention to.
Testimonial.to's collecting widgets does a great job here.
Besides, you have many other customization options, like adding an explanatory video, customizing the fonts, colors, and branding, watermarking the videos you collect, gathering social profile information, star ratings, redirecting to a custom "thank you" page, and more.
Another cool thing about Testimonials is well expressed in the words of
Kevon Cheung
, who helps creators consistently show their work publicly:
People are talking about your business in so many ways that relying on direct testimonials and reviews to spread the word about your projects is falling short.
Testimonial helps you use social proof from basically everywhere on the internet.
Social media, YouTube, SoundCloud, Slack, and anywhere else you want.
It really helps your message become more powerful.
I will talk more about the opportunities that Testimonial.to offers to improve your marketing efforts.
Incentivize People To Share Their Honest Experiences
This may sound a bit harsh, but it is a reality: people mostly care about them only.
In many cases, if your requests are not converting, consider incentivizing your former students to leave a testimonial.
In exchange for their feedback, you can offer the following:
Extra modules of your course
Discounts on another program (existing or upcoming)
A Notion or Google Sheets template or a similar useful file
This program allows you to manually or automatically reward your reviewers with gift cards, donate-to-charity options, and discount codes (Shopify merchants).
Note: you should never buy reviews or fake experiences. Invite people to share their real thoughts and experiences.
Follow Up With Your Students Periodically
You will get the best ROI from the testimonials of your best students.
With that in mind, it would be wise to create another automated email sequence to follow up with your students every x number of months to check in on how they are doing.
This email can serve many purposes.
Show your students that you care.
Offer help and support.
Get feedback (both positive and negative).
Strengthen your network.
Promote new offerings if the conversation allows it.
Spot your top-performing students and invite them to leave a powerful testimonial (you can even turn them into a case study or a featured success story on your landing page).
While you will set the initial trigger as an automated email, you should put in the time to properly engage with everyone who replies.
The testimonials you gather after completing the course will focus on the quality of your teaching, the material, and the hosting platform/experience.
The ones you gather months or years later will focus on the results and return on investment. These ones will be more valuable and better to convert new course students.
Improve How You Showcase Your Testimonials
We have covered some ideas you can use to gather more and better testimonials from your online course students.
I don't want to wrap up without saying that improving your testimonial showcasing tools and processes is as important as how you collect them.
What are some things you can do?
Feature Your Best Individual Testimonials on Your Landing Page
Do you have two or three testimonials that you consider pure gold? Every creator, freelancer, and business owner does.
Leverage these assets to their fullest potential by featuring them on your course's landing page or sales page.
Testimonial.to allows you to create a fully-customized individual embed code for any of your testimonials.
All you have to do is pick it, decide how you want your embed to look, and embed the code on your website.
You can use the embed code on multiple landing pages or create unlimited versions with different formatting conditions.
Share your testimonials on social media often
You can also use social media to promote your testimonials.
The best way to do this is to post image files (much better than text).
Whether you tweet your testimonial images, share temporary stories, or post them to your feed, Testimonial can save you much time.
Testimonial can save you time because it allows you to export your testimonials into image files with specific dimensions for your preferred social media channel.
With a couple of clicks, your testimonial is a social post.
These images do not get old. You can repost them occasionally or change the formatting in future posts.
Add a Wall of Love to Your Website
A Wall of Love is a digital page where you can showcase the love your clients send you through testimonials and reviews.
Imagine a landing page focused on the best experiences of your most amazing clients!
This feature is available in all Testimonial plans (even on their
free tier
).
Put everything in one place:
Comments from social media
I love how natural and classy the embed looks on
Ship 30 for 30
's website 👇🏻
Closing Thoughts
You can use any tactics to grow-hack your online course sales, but they will always need to rely on social proof somehow.
You need that credibility, which can only be established by your former students.
I hope that you enjoyed this guide and found it helpful.
Gather as many testimonials as you can and leverage them for marketing as much as possible.
Your results will be a lot better if you rely on Testimonial.to to help you.
Thanks for reading!