Have you seen photos of this place on Instagram before?
It has the words, "I love you" featured 311 times in 250 languages. This tribute to one of the most powerful human feelings is indeed a great place to visit with your special one.
It's a joke actually, but it wouldn't hurt to follow me if you're interested in entrepreneurship, bootstrapping, and SaaS products. 😊
Okay, going back on track.
I'm here to teach you how to give your potential customers a similar experience.
I'm talking about creating a Wall of Love for your business such as the
example
below.
(Disclaimer: they won't need to fly to Paris 🇫🇷).
What is a Wall of Love?
Similar to the beautiful showcase in Paris, a Wall of Love is a digital page where you can showcase the love your clients send you in the form of testimonials and reviews.
Imagine a landing page entirely focused on the best experiences of your most amazing clients!
This feature is available in all of our plans (even on the
free tier
).
Put everything in one place:
Comments from social media
If you think it sounds cool, you should take a look at one.
That experience can say more than my words.
What do you think? Do you want to see more?
Keep reading, I'll link to more examples from real, active Walls of Love - actual dedicated pages generating money for their owners!
Why should I create a Wall of Love?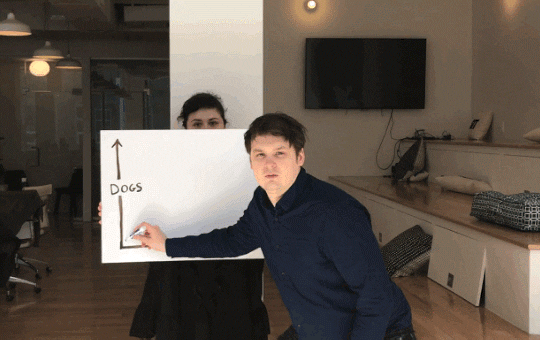 TL;DR: It can bring you more sales, more love, and more attention.
Wouldn't this be a huge asset for any business? Believe me, it is.
At
Testimonial.to
we see the Wall of Love as an advocate or salesperson that stands and speaks up for your brand 24/7 year-round.
You can share it everywhere and keep adding more love from your customers as it comes.
As I explained in
this guide
, the perfect social proof strategy includes requesting, capturing, and showcasing your customer opinions.
Testimonial.to simplifies the execution of your strategy, and to prove it, the Wall of Love feature comes out as the ultimate expression of the "showcasing" part of the process.
You aren't convinced yet? These are three strong reasons to consider creating yours now.
1. Save yourself dozens of hours of work (or money paid to contractors)
The Wall of Love that you can generate with Testimonial.to is ready in seconds, and it looks great!
You could use some "cheaper" or free alternatives but the outcome would match the budget.
To achieve a good-looking outcome you may need to invest in a designer
To produce a widget that's customizable, user-friendly, and has a responsive design you may need to pay a developer and a designer
Custom solutions require technical maintenance (more costs) and self-managed solutions usually require your time as well (more work)
In the meantime, going cheap is almost always more expensive.
Why? Because if you don't have the best tech to showcase and share your social proof you are probably building less trust with your potential buyers, having fewer conversions, and eventually leaving a lot of money on the table.
Some food for thought here. 🧠
Do you see why adding a tool like Testimonial.to to your marketing stack makes a lot of sense?
NOTE: if your business is just starting out, it would be good to remind you that Testimonial.to has a
free plan
for new entrepreneurs. You don't need to pay anything until you're ready to scale.
2. Your Wall can be customized and managed by a kid
If you are a solopreneur, business leader, or marketer you may be already using five to ten (or more) tech tools every day.
Do you really want to take the time and focus to learn new processes or technical skills to get this job done?
Testimonial.to is super, SUPER easy to use.
It takes 2 minutes to set up your collection landing page (you could literally teach a kid how to manage this for you) and once you have collected or imported testimonials into your account, organizing them and creating your Wall of Love is a piece of cake.
(More details later in this article).
Remember, the market rewards speed.
If you want to be competitive you need smooth processes and systems.
The Wall of Love features automatically turn you into the quickest in town.
It's so effective that it won't become "a task" on your to-do list, and if you're like me that means a lot.
And while the setup and operation of the Wall of Love are simple and effective, take into account that we support other powerful add-ons around it, for people looking to build more robust systems.
I'm talking about integrations, webhooks, metrics, individual metrics for video testimonials, and more.
3. Use your Wall of Love ANYWHERE:
Finally, since the Wall of Love is embeddable, you can create it and put it literally anywhere.
You can, for example:
Create a "Wall of Love" subpage on your website - i.e. /love or /wall-of-love
Embed your Wall of Love on different landing pages when you test your marketing campaigns
Put a link to your Wall of Love on your email signature
Create a QR code that people can digitally or physically scan to see your testimonials on the phone
A lot more, your imagination is the limit
Here's how some of our customers have decided to make use of their Wall of Love.
Check them out:
Evabot is a gift automation tool that allows you to easily choose the perfect gift for employees and customers. Showcasing their work, Evabot has a great testimonials page, it includes both text and video testimonials with some of them showcasing the gifts received. The testimonials page also indicates that 95% of their over 45,000 ratings were five-star ratings. Great social proof indeed!
Taskade is a real-time organization and collaboration tool for remote teams. On their website, they have a page dedicated to reviews (that originate from the business's
Appsumo
page). The reviews are all in text format, with some happy customers providing a lengthy description of their positive experience with Taskade. All of the reviews are either five or four-star reviews, so that looks great!
Wall St. Rank offers a daily ranking of high-potential stocks through aggregated ratings and estimations from top Wall Street analysts. It exhibits testimonials on the homepage, alternating between video testimonials and written testimonials in a slick and smooth way, looking great!
I'm ready - how do I create my own Wall of Love?
Thanks for reading this far.
This section should be juicier, but Testimonial.to makes the creation so simple that I will probably look a bit dumb explaining this.
Just head over to Testimonial.to and click on "Sign Up" and confirm your email
When you are on your dashboard, scroll down and click on "Create a new space"
Set up your collection page by following the prompts
Once your space is ready, go to the dashboard. From the left menu, scroll to Embeds & Metrics and click Wall of Love
Follow the prompts to choose a layout and customize your new Wall of Love
Your Wall of Love is ready to rock. Embed it following this guide
Note: You will need to collect or import a few testimonials before you can enjoy the best view.
Wrapping up…
Creating a Wall of Love is a no-brainer for people looking to centralize their best testimonials and positive reviews in one place without complicated processes and without design or coding skills.
The output is a good-looking and marketing-optimized page that you can customize and use at your will.
The Wall of Love creates a lasting impression on the mind of your potential buyer - it's like being flooded with supporting comments, proof, and reassurance about a product or service without it being overwhelming.
It's not a company selling you on their solutions, but people like you sharing their experiences.
The effect that this can have on your potential buyers when they are first engaging with your brand, and even when they return to check you out again is invaluable.
While all of the features and the Testimonial.to branding require a paid plan to be unlocked, the impact that an aid like the Wall of Love can have on your business exceeds the investment tremendously.
So with all that has been said, what are you waiting for?
Head over to
testimonial.to
, embed your Wall of Love in minutes and take your conversion rates to the skies.
You won't regret it!