Customer testimonials are the perfect tool to showcase your work and highlight how you have positively impacted your customers.
No matter what you say or how you present your business, your potential customers are more likely to trust your current customer's opinions on your work. So just let your own happy customers do the talking for you!
Evabot is a gift automation tool that allows you to easily choose the perfect gift for employees and customers. Showcasing their work, Evabot has a great testimonials page, it includes both text and video testimonials with some of them showcasing the gifts received. The testimonials page also indicates that 95% of their over 45,000 ratings were five star ratings. Great social proof indeed!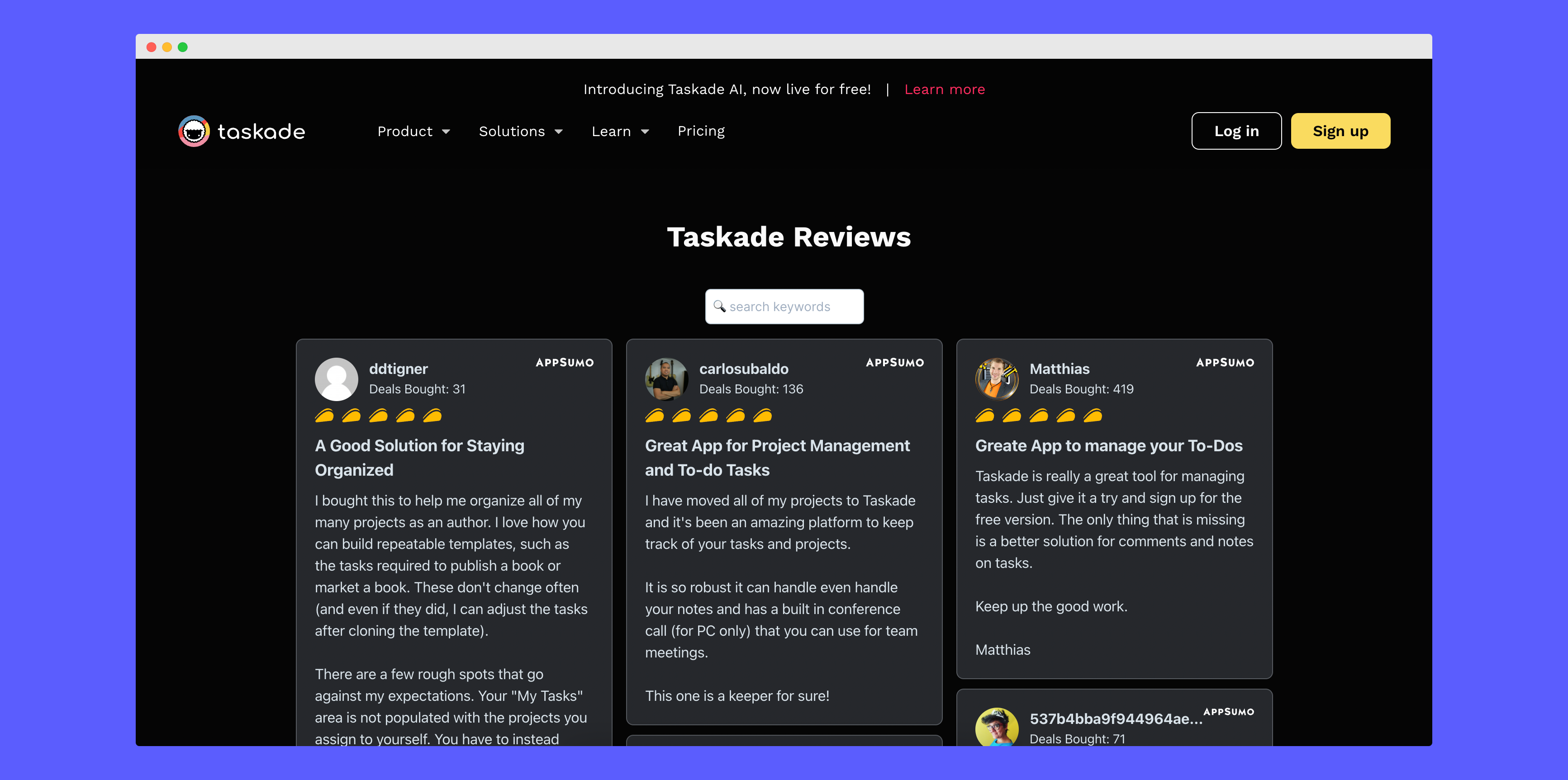 Wall St. Rank offers a daily ranking of high-potential stocks through aggregated ratings and estimations from top Wall Street analysts. It exhibits testimonials on the homepage, alternating between video testimonials and written testimonials in a slick and smooth way, looking great!
Llama life is a productivity app that helps organize time and focus on work. Short and strong quotes from satisfied users are scattered through the homepage which also includes a wall of love with longer testimonials, most of them from Twitter.
Find your Following offers guidance courses on how to use Twitter professionally to build a personal brand. The website has student testimonials right on the homepage, with some of them being video testimonials. Some of them offer numerical proof on how being in this course has improved their Twitter reach and following. It all looks pretty good!
Feather is a tool to create and publish blogs from Notion easily, without coding. Their website's homepage includes client testimonials from Twitter. The tweets are nicely put together, and all of them are from very happy customers, explaining the perks of using Feather and how it makes their work easier and more efficient.
This is a tool for AI picture generation. The website has testimonials (often originating as tweets or instagram posts) from happy customers. Some of the testimonials aren't just text, but they also show pictures generated with the tool.
Taplio is a tool for LinkedIn that helps build a brand. It allows for scheduling posts, creating content and monitoring the progress you're making. Right on the homepage, the website has a testimonials page that looks nice with text as well as video testimonials being featured.
Sopatabs is a tab management Chrome extension. On the website's homepage, testimonials originally from chrome web store reviews can be found. All of them are five stars, with users explaining how Sopatab has helped them organize and optimize performance and memory.
Marketing Sumo is a tool for automated lead generation, lead nurturing, social media and content marketing. Their website shows testimonials from happy customers right on the homepage.
Build in Public Mastery offers a "hybrid" year long course to optimize online presence and community engagement. Their website, on its homepage, shows video testimonials from students as well as links to success stories written by previous students.
Start Writing Online in 30 Days offers online courses on the fundamentals of writing. Their homepage displays testimonials from happy alumni, explaining how the course changed their lives.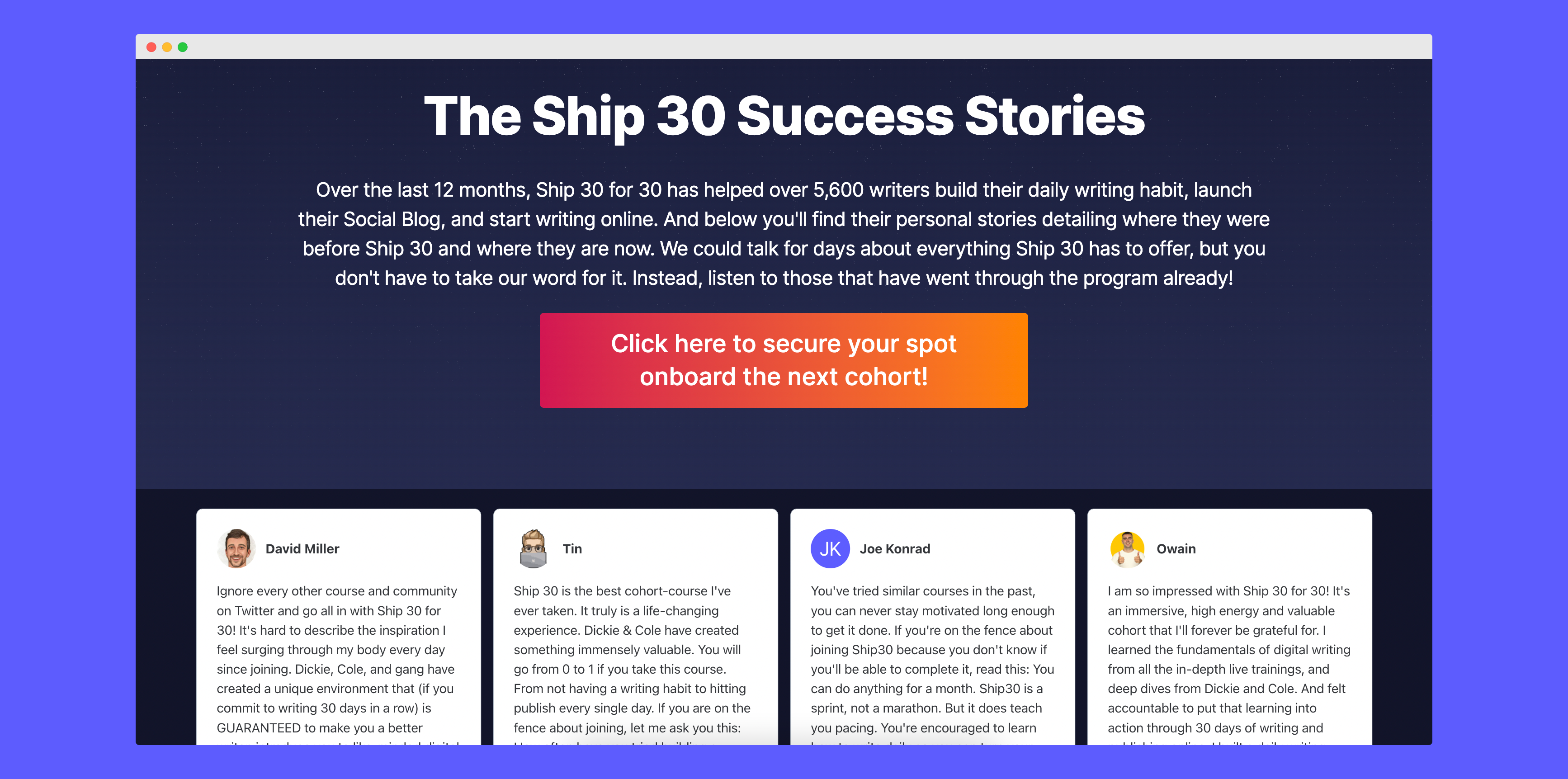 UserBooster is a Notion template for building a launch strategy. On the website's homepage, you can see testimonials (tweets) from founders who have used the tool. They show how helpful UserBoost has been in building their business, which looks nice!
Slip offers a tool to create and sell interactive programming courses. Right on the homepage, it shows off testimonials from customers in two different ways. First, it highlights a user whose course is on presale and then has a full Wall of Love with tweets from customers buying the courses and also from those who used Slip to offer courses.
LeadGeeks is a B2B marketing agency offering to use LinkedIn accounts for lead generation. Their website's homepage shows off their work through testimonials from companies who have used their help to launch LinkedIn Campaigns. Some of the testimonials are simply quotes and others are in video format.
This is a copywriting tool that allows you to easily generate new SEO copy or rewrite existing SEO copy using AI. There are testimonials on the homepage, coming straight from Twitter.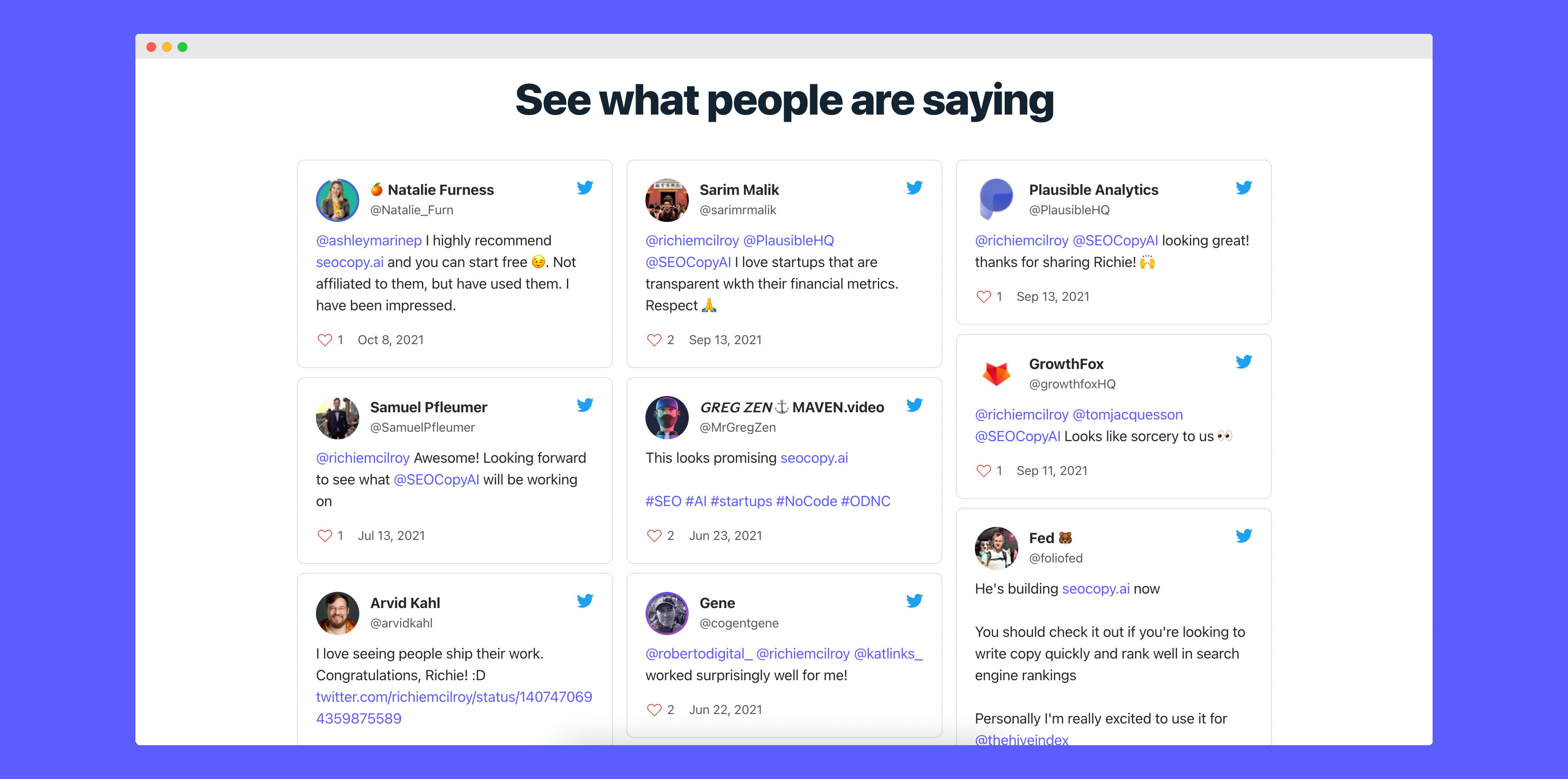 Bkmark is a tool to organize and share bookmarks with collaborators. Their website has many testimonials, highlighted and scattered out as you scroll through their homepage. Besides that, there is also a Wall of Love lower on the homepage that brings together tweets from happy customers.
Their website has a nice Wall of Love right on the homepage, including testimonials (some of which are tweets) from satisfied customers.
Recover is a tool to convert abandoned Stripe checkouts. On their website's homepage, there are client testimonials from Twitter, commending the website.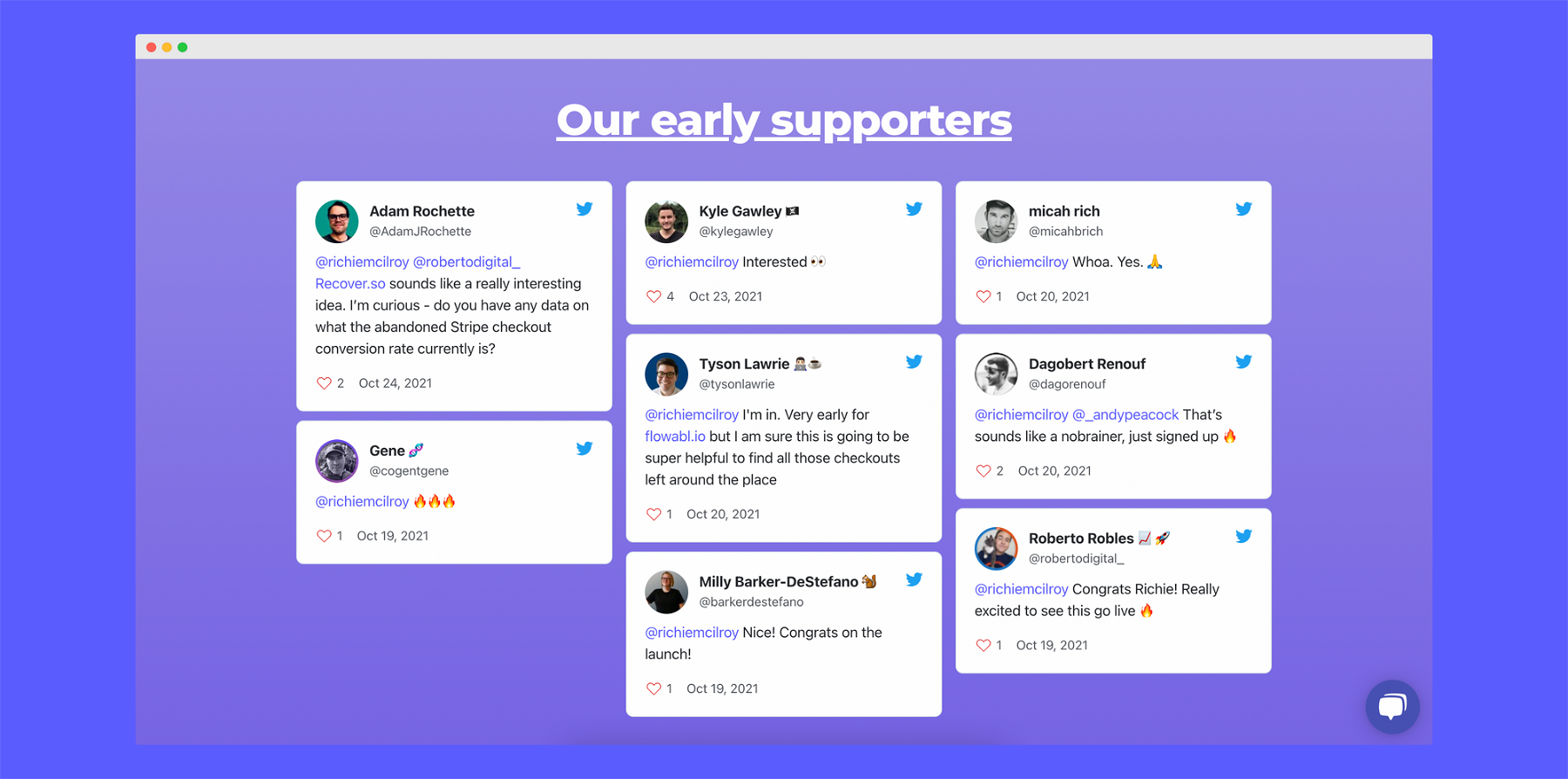 Nomod is a free payment processing application, allowing credit card payments processing with no extra hardware. Their homepage displays a great wall of love that has both video and text testimonials.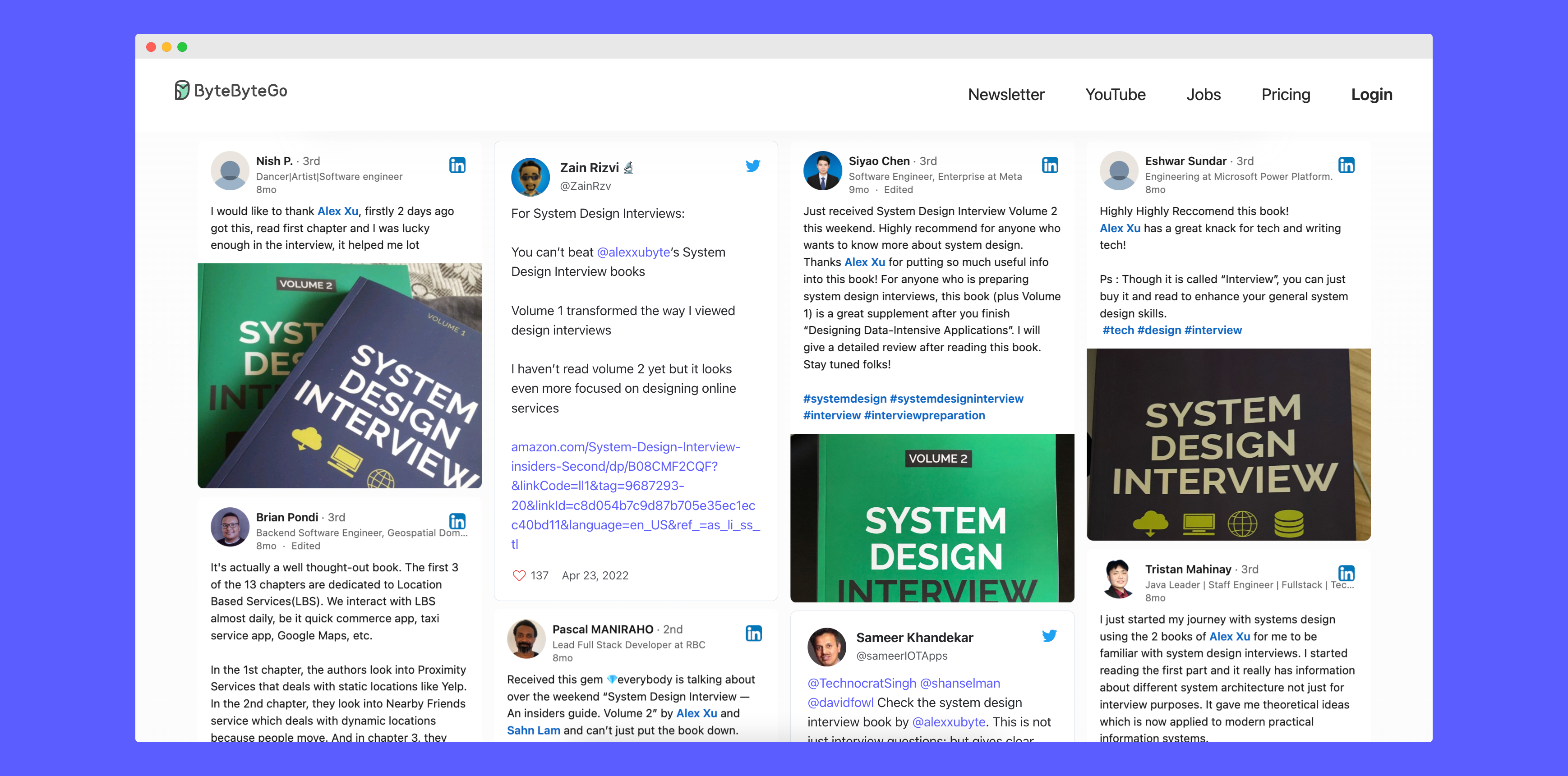 OfferMarket is a real estate investing platform that also offers loans. On their homepage, they show video testimonials as well as links to Google and Facebook reviews.
Threadstart is a content creation tool that allows you to write and publish tweets and threads. The website has testimonials on the homepage, they all come from Twitter and they were all written by satisfied customers!
Doozy is a tool for remote team engagement, allowing for virtual team socials, ice breakers, coffee chats and other activities. Right at the top of the homepage, you can see testimonials in both text and video format from happy customers, explaining how Doozy helped them connect their teams.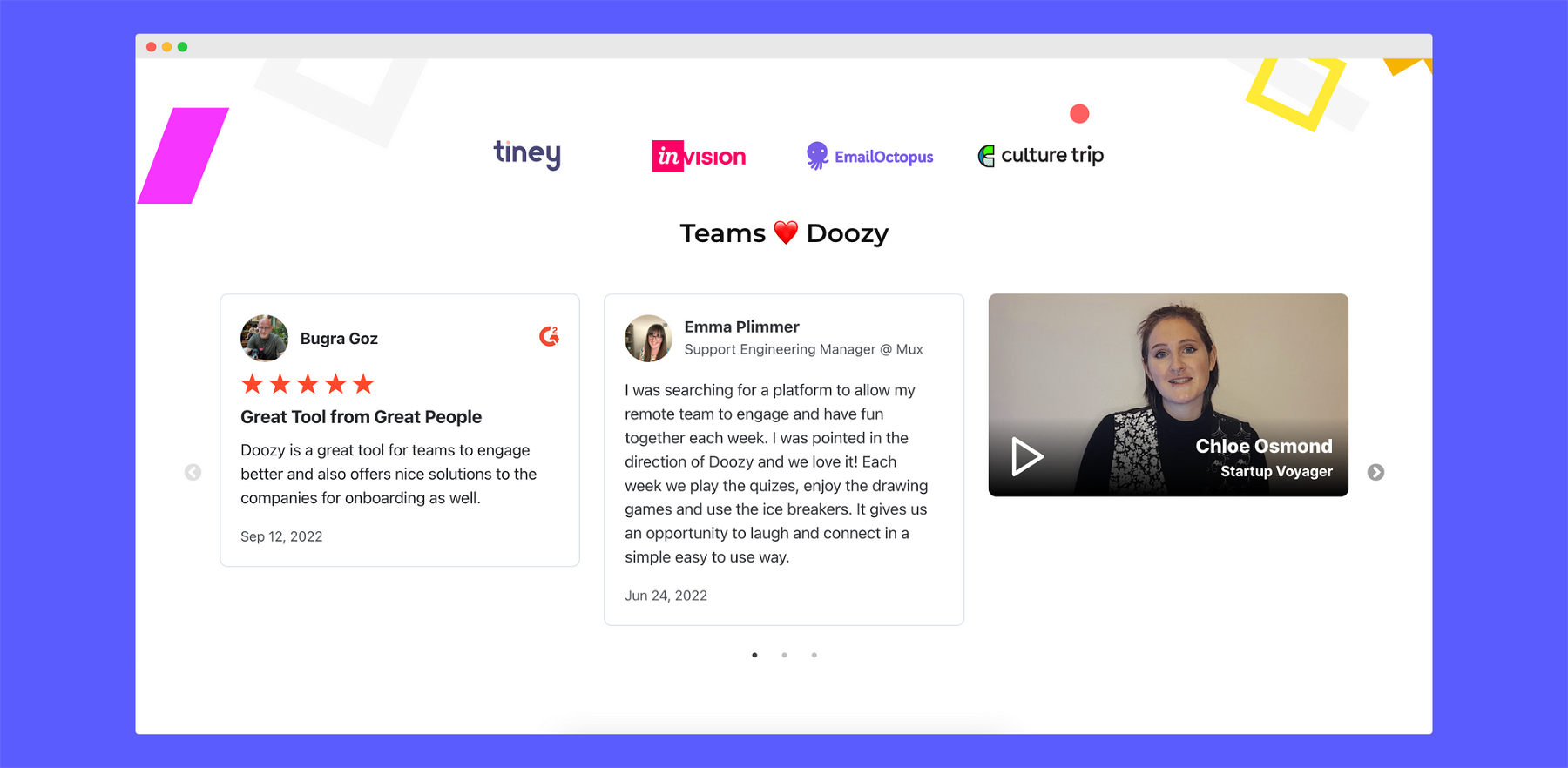 Wrapping up…
And there you have it: 33 Examples of Customer Testimonial Pages.
It is essential to have customer testimonials on your website, and the way you present them matters.
Thank you for reading, I hope you've found this helpful! 🥳  If you're diving into Testimonials, you may like the following articles: