Happy, well-served customers bring in more customers to your business. We all know it, that is not up for discussion, right?
What would be important to define is: how can you manage what your customers say about your services or products? If you don't want to rely on word of mouth alone (and you shouldn't) you definitely need a system to request, capture and showcase customer testimonials. This system needs to be operating 24/7 so that you don't let social proof opportunities escape from your hands.
Maybe you have a system already. That's great! But are you capturing video testimonials? If you aren't, you are leaving a lot of money on the table. People love to see social proof and customer reviews, but they only
go into "take-my-money" mode
fast when you run the extra mile and showcase video testimonials on your website.
In this guide, I will teach you how to design and implement such a system, so you can use video testimonials to convert a lot more.
Defining your testimonial system
The first step would be to sit down and plan how this system will work.
Use a whiteboard, a notebook, or an online tool like
WebWhiteboard.com
, if you prefer, to map out the customer journey in this area.
Since every business is different, and since timing is so important, ask yourself questions like the following:
When is the best time to ask my customers for a testimonial?
What communication channel should I use to reach them?
Will I ask them more than once?
Will I offer an incentive to have them send their honest review?
Depending on the type of business that you run, you may need to consider other things while outlining your plan, but at least, you want to end up with a clear idea of when you are going to ask for the testimonial, how you are going to capture it, and how you are going to showcase it.
You can use
Testimonial.to
to simplify this process, make it smoother, and make sure you succeed.
Once you have an idea it's time to get started. Start, as soon as possible. You'll probably learn a lot more by executing fast and iterating later. Since there are no one-size-fits-all solutions for a process like this, you'll have to improve through trial and error.
The next sections cover my best advice on how to design and implement each part of the process.
Asking for testimonials
Everything starts with asking. If you are not asking for testimonials, you'll never get any.
Your customers are busy, so it's your responsibility to get these experiences from them.
Don't be afraid to ask, if you did a good job clients are most likely waiting to talk about your brand with the world.
The most important things on your end are defining when you will ask your customers for a testimonial, and choosing a channel or channels to do so.
So, when is the right time to ask? There's no perfect answer for this since every business is different. Bare with me, there are some basic guiding principles you can make use of to determine this.
1. Let your customers experience first
Make sure that you don't rush into asking for a review or testimonial.
If you offer monthly services, for example, never ask for a testimonial before at least 2-3 weeks of service have passed (an exception would be if you detect an outstanding happy customer through your conversations with them).
Ideally, you want to give your customers enough time to experience what you offer and create a solid opinion of your business before inviting them to share their experience.
Video testimonials, especially, are very hard to collect if you ask too early. Testimonials in video format are usually given by people who want to give a shout-out to a company they enjoy working with, versus a review, where people just share their experience (good or bad). Not everyone will take the time to record a video testimonial unless they really want to do it.
2. Invite them while the fire is on
The same is true for the opposite. If your customers have not canceled or complained, they are probably happy with what you provided. In many cases, they are very happy.
If you wait too long to ask them about their experience, you can lose the opportunity to capture their comments when they are in love with your product.
Similar to relationships, they can get to the point where they "like" your product but since it's not new anymore, they are not "in love" with it.
If they like your product, they will give you a decent testimonial.
You want to collect these videos when they are in love with your product. That will bring you great testimonials and maximize your efforts.
3. Rely on both automated and real-time methods
Once you examine the two previous principles, you will be able to determine the best time to ask.
With the "best time to ask" in mind, you can decide to automate your efforts.
An example would be to
schedule an automated email
that congratulates your customers for their first month with you, gives them something of value, and also asks them to record a video testimonial or provide feedback.
Testimonial.to facilitates this for you by providing a dedicated landing page for your business. You share the page link easily via email, social media, or even SMS. The setup can be done in two minutes.
We'll go into more details about capturing in the next section, I just wanted to point your mind to what an automated method would be.
Maybe you don't use email, but you can do something similar with whatever method you use to communicate with your customers.
What else can you do? This automated "invite & collect" email is cool, but in my experience, you will have a lot of other opportunities to invite and collect testimonials from your clients.
Other places where you can automate your efforts:
If your online store or systems allow it, send an automated email when a customer makes a second purchase or upgrade. They are most likely upgrading or purchasing again because they like what you offer.
If you have an affiliate or referral program, make sure to invite all of your members to leave a testimonial. They are sharing your product for a reason.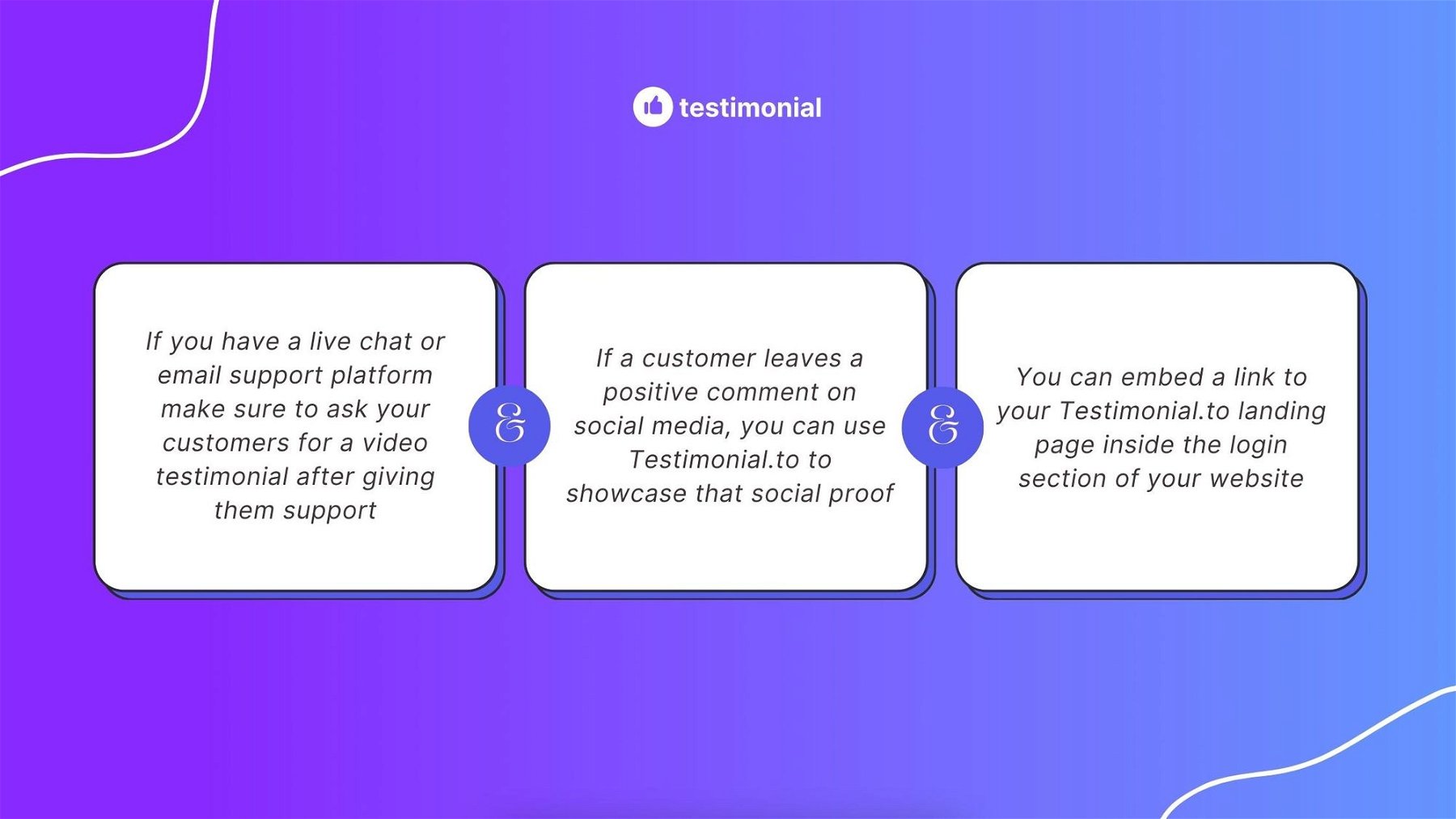 What do you mean when you say "real-time" methods?
I mean using other opportunities to share your Testimonial.to landing page with your customers.
If you have a live chat or email support platform make sure to ask your customers for a video testimonial after giving them support
If a customer leaves a positive comment on social media, you can use Testimonial.to to showcase that social proof, but you can also invite them to give you a video testimonial on the spot or by sending them a DM.
You can embed a link to your Testimonial.to landing page inside the login section of your website
Capturing Testimonials
From my experience with video testimonials, doing this part without a tool can be very difficult.
You may be wondering, what can be so difficult? All they have to do is record themselves with their phones and send you the file.
As simple as it may sound, in practice, customers see this as painful and time-consuming, so in almost every case they end up not doing it.
That translates into you having to follow up, which takes some of your time and also can be upsetting for some customers.
Testimonial.to makes this part a piece of cake.
As I mentioned earlier, you can set up a dedicated landing page in two minutes, share it with your customers, and if they want to, they can give you the video testimonial with just a click.
Testimonial.to makes it very simple for them and for you.
Showcasing Testimonials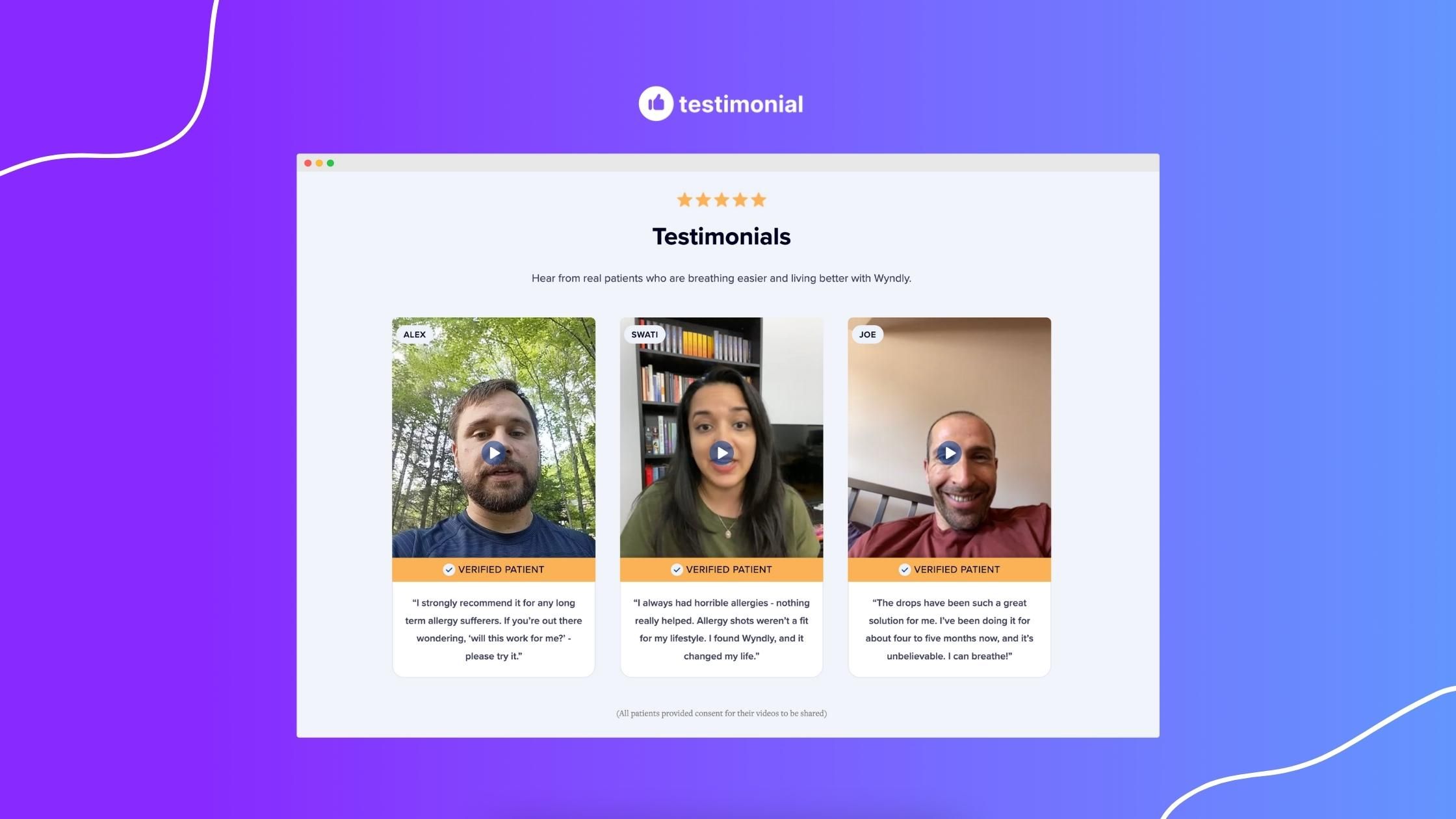 Once you have captured your customer's experience, Testimonial.to gives you a simple and clean dashboard to manage all testimonials in one place.
Without a tool like ours, you would need to pay for a 3rd-party ad-free hosting service like
Vimeo
to keep the videos online and ready to use.
You don't need to know anything about coding or design, still, the final view will be amazing.
Another thing to consider is that when you use an external review site like
Yelp
or Google Reviews, they showcase all of your reviews, good and bad, while with Testimonial.to you are in control and you can even measure the performance of your videos to make sure these customers' voices do as much for you as possible.
Repeat & Reap The Benefits
Okay, you now have a seamless system to request, collect, and showcase reviews.
Get started as soon as possible, and let the system run for months.
You'll be surprised about how positive this turns out for your business.
In the meantime just remember that you can always evaluate how your asking process is set up, but for the rest,
Testimonial.to
has you covered.