9 simple ways to capture B2B customer testimonials
Modern customers don't rely on traditional marketing pitches anymore. While opting for a new brand, they look for authenticity and credibility — and this can be done with customer testimonials.
Customer testimonials act as personal recommendations and add authenticity and credibility to your brand image. Well-curated testimonials also help in marketing without the typical sales-y tone.
And who else is more qualified to endorse your products than your existing customer base? So, in a heavily crowded market, customer testimonials are tried and tested staples to get new consumers on board.
B2B brands often deal with a lengthy sales pipeline. Their best shot at creating social proof is to add customer testimonials on their site and other marketing channels. In fact, adding B2B customer testimonials can shorten your sales cycles significantly.
In today's article, we will share how you can get B2B testimonials from your customers that drive actual results.
What to do before asking for B2B customer testimonials
Gathering customer testimonials needs to be a customized process. Before you ask your clients to participate in a testimonial video or write about their experience, you need preparation.
On that note, here is how you increase your odds of getting your customers to participate and submit text or video testimonials:
1. Identify the right customers
For starters, if you want to create impactful testimonials, you need to identify the right clients first. This will ensure you target those clients who are more likely to participate and add value. Choose clients who showcase a purposeful journey.
2. Ask the right questions
Whether you are curating a video testimonial or putting together text-based customer reviews, you need a well-mapped-out and pointed questionnaire. Your questions should direct the customer to highlight the changes your services brought to their business.
For example, this Omada Healthcare customer testimonial features clients like Costco and Windstream. The video starts with a pretty straightforward 0question: "What is it like to work with Omada? Here's what our customers say."
Such a pointed question directed the participants to express how Omada made their employee healthcare plan "one of the easiest implementations" they have rolled out. They also talk about the positive feedback they get from their employees about healthcare benefits. Omada kept the questions simple and prompted insightful responses from its customers.
3. Get the right tools or equipment
Make sure you get the right equipment for your testimonial's video production. This will ensure your videos have superior audio quality and offer high-quality and memorable visuals. If you will be receiving video testimonials online instead of capturing them in person, use tools such as
testimonial.to
that will help you get set up in no time and capture the best video possible.
9 ways to capture B2B testimonials from customers
Make it easy for them to say yes
Customers will participate when you effectively address their questions about your testimonial request. A vague pitch that lacks important details about the timeline and the structure of production is likely to get ignored.
So, when you prepare your pitch to ask for B2B customer testimonials, add the answers to common queries.
The primary three questions your customers are likely to have are:
What's the time commitment required of me?
Will we see the questions you prepared ahead of time?
Will my team have the chance to review and approve the draft testimonial before it's published?
If you pre-address these questions in your initial ask, it will be easier to convince your customers.
Option #1: For more detailed testimonials and case studies
Hey [First Name]
We are delighted to know about you and your team's current success.
We are also ecstatic about the smooth implementation you experienced with [your brand name]. Your feedback is extremely valuable to us.
On that note, we want to know if you and your team would like to talk about your experience in a quick testimonial video.
All we need is 15 minutes of your time. We will share all the questions ahead of time. Before we publish it, you can review it and suggest changes.
We would greatly appreciate it if you consider our request. Please let us know.
Thank you,
[Your name]
Option #2: For a more casual testimonial request.
Remember to keep your tone casual. This will help you get them receptive to the idea. If they agree, you can sort out the finer details later.
Monitor review sites and follow up with the positive reviewers
How do you identify customers to pitch your video testimonial proposal to? One of the smarter ways to do this is to browse pre-existing customer feedback on top reviewer sites.
Positive reviews on these sites indicate those customers went out of their way to endorse your services. So, it is likely they will provide more in-depth feedback.
Keep an eye on B2B customer reviews sites like Capterra and G2 Crowd and contacts the positive reviewers. Thank them for their review and ask them if they'd be willing to talk more about their experience with your services on camera.
Incentivize customers who participate
Getting featured in a video can be daunting. Getting clients to agree to participate in B2B customer testimonials for you, shouldn't be the end of your strategy. To get them to fully commit and add value with in-depth insights, incentivizing the process goes a long way.
You can pitch the idea with an offer of a free service upgrade, a discount voucher, or something similar in monetary value for their input in the testimonial. Your clients will be inclined to get over their fears and invest their time in your project if they are getting something out of it.
However, don't go overboard with the incentives. Instead, consider your budget and possible ROI. When you plan out your strategy, choose options that involve no to bare minimum cost.
The aim here is to make your customer feel important. So keep it more about the gesture than the monetary value. This way, you aren't losing money collecting customer testimonials.
Avoid pitching pre-written testimonials
If you are planning to share pre-written testimonials as a script with your client, you may want to reconsider. It will paint a negative image and show that you don't value their opinion.
With a pre-written script, your pitch to capture testimonials may come across as a marketing gimmick. Your client will be more likely to say no if the testimonial's authenticity is taken away.
Leverage social media channels
Most modern brands have an active presence in social media — and that includes your B2B clients. So your social media channels can be the best tools for capturing honest customer testimonials.
Your job here is to encourage customers to leave reviews on your social media channels and make them accessible.
First, you must assure your customers their feedback is valuable to you. Show them your appreciation through improvements.
Choose channels where your existing and potential customers are most active. For B2B testimonials, LinkedIn and Twitter work exceptionally well.
Ask them to provide the qualities of specific products and elaborate on how they helped them achieve their business goals. You can also host Live Q&A sessions to increase participation.
You can use online surveys or questionnaires, ask your clients in person, or send them personalized emails.
For example,
ChilliPiper
collects customer testimonials mainly through LinkedIn and showcases them on its website. Some of these reviews are beautifully detailed and provide an in-depth insight into the brands' service.
Improve customer experience
Quality of customer service is what makes a good business great. Treat every feedback as an opportunity to improve customer experience. This way, you can show your customer that you value their opinions and strive to give them accommodating service.
Capturing authentic video testimonials is not only about focusing on positive reviews. You have to respect the negative ones, too.
Many B2B businesses suffer because of unreported issues faced by customers. So, make sure you monitor constructive criticism and take proactive action. Once you're aware of the customer's issue, work on quickly resolving it.
Assure your customers that your customer service specialists are only an email or call away. Use multiple communication channels to make the structure more accessible to your customers.
When your customers see you are eager to know their honest opinions and consider their suggestions, they will be inclined to promote your positive qualities too.
After you resolve an issue, ask for feedback again. Even if they seem satisfied, don't request a testimonial right away. It may take away the authenticity of your efforts.
After a few weeks, ask them if they'd like a feature on your testimonial page. These customers can now add another layer of authenticity by highlighting your quick resolution to their issues.
Remember, modern businesses value customer service as much as a well-designed product. When your clients experience that, getting in-depth B2B testimonials from them will be much easier.
In the above customer testimonial video, Gretchen DeKnikker, the COO of SaaStr, talks about her experience with Frontcube. She explains how amazing it has been to work with Frontcube and shares her delight by saying, "their attention to detail is fantastic." She states with 18 years of experience in the field, she can tell the difference between good and bad service which conveys to the audience — Gretchen knows what she's talking about.
Build up a conversation
Sometimes a direct pitch for a video is not the best approach. Your approach should depend on the temperament of your specific customer.
Why? Being on video is difficult. So, it is likely that your testimonial request may make it awkward for them.
The ideal way of acquiring authentic and impactful B2B customer testimonials is to create a no-pressure situation.
Ask the customer how things have been since you last spoke. Review any results with them and take careful note of what they are saying.
When they're done, summarize what you were just told. Cover details about their experience with your product and ensure you have the complete story.
Then, ask them casually if they'd be willing to talk about this on camera.
Sometimes it's easier to make the request after the customer has already praised you privately. It is a far easier transition than coming right out and asking for an endorsement.
This tactic also makes it easier for you to determine if there is any problem with your service.
It's better to find out upfront and work to resolve it immediately before asking a moderately happy customer to praise you on camera.
Train your customer service employees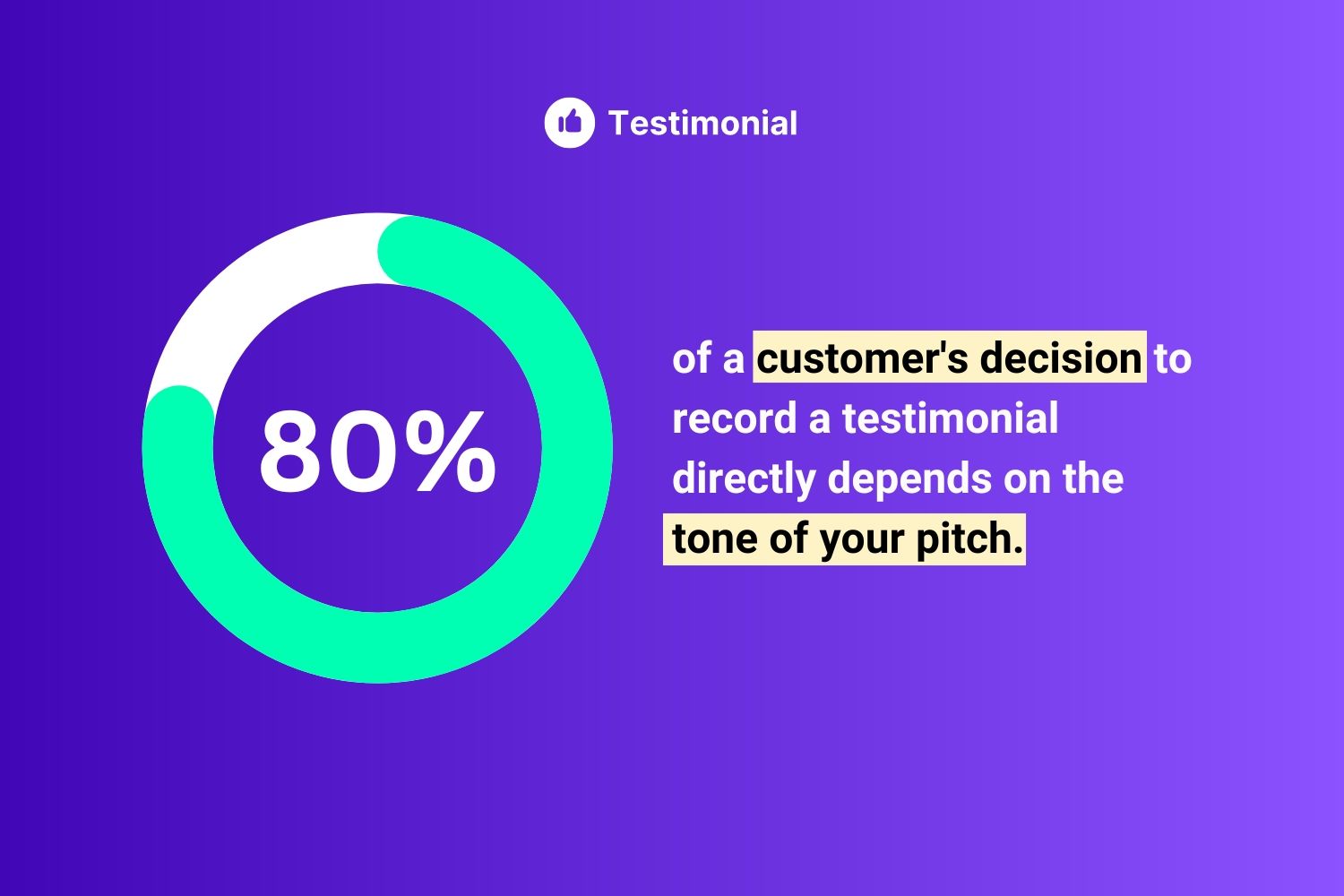 Your customer service employees are the ones who deal with your client regularly. They build close company-client relationships and thus are more equipped to identify and pursue your customers to take part in your testimonials.
Here are some things you can do to help your employees pitch their proposals to clients:
Explain the value of B2B customer testimonials and how it benefits them and the company.
Prepare questionnaires in advance. Train employees to deliver the questions and elicit meaningful responses from the client properly.
Train them on using proper tone in the pitch and answer queries outside the prepared template.
Assigning your employees ‌to get testimonials will help you make the best out of your resources and ease the transition.
Do not pester them
Gathering customer testimonials is essential. But nagging them for a response to your proposal can be counterproductive to your business.
Remember, your aim as a company is to retain your customers. Pestering your customers with constant testimonial pitches may irritate or annoy them and cost you their business.
You want to make your customer testimonial pitch as persuasive as possible. But the rule of thumb here is to never compromise on the established company-client relationship.
So, if they respond to your proposal with a "maybe", make sure you always follow up politely with a more conversational tone.
Don't bring it up again until an opportunity arises organically. For example, if the client talks about their successful partnership with you, then you can follow up again.
What to do after getting B2B customer testimonials
Here are some things you need to do to make the most of the B2B customer testimonials you get:
Express your gratitude
As a B2B business, whoever you are asking for testimonials is likely to have a busy schedule. So, if they agree to give you a testimonial, be sure to thank them for their time and effort.
This will re-establish the fact that you value them and respect their input. A little thank-you note with a goodie bag can go a long way in creating strong customer loyalty.
Put them up on the website
Customer testimonials work because potential customers resonate with the experience of your existing customers. It convinces them your services can solve their business pain points, too.
For that, you need to make these testimonials visible to your potential customers. You can dedicate a separate "Wall of Love" page and showcase your testimonials on your website. This will act as authentic social proof of the potential leads to browsing your products and services.
With Testimonial,
embedding testimonials
on your website is a cakewalk. From WordPress to Webflow, the platform supports every popular platform. All you have to do is to copy and paste our HTML code to add the
Wall Of Love
to your website.
Incorporate them into marketing materials to get more mileage
Customer testimonials bring authenticity to your marketing efforts. To make your marketing materials seem less salesy and more real, add testimonials in relevant places.
You can quote someone with a leadership position in your client company and show your audience how you made a difference in their business. This will add an edge to your content marketing and social media marketing plans.
Conclusion
While customer testimonials are invaluable to any business, they hold even greater importance for B2B companies.
Proper testimonials act as professional recommendations to your potential client and convince them to opt for your brand over your competitor. So, make sure you grab every opportunity to collect authentic B2B testimonials.
Of course, the generic "great product" reviews will not cut it. To see tangible changes, you need to collect more powerful testimonials that explain why your product or service is worth the investment.
By following the above steps, you can successfully capture client testimonials for your company. However, if you are a beginner in the game of social proof, handling such multidimensional elements may seem tricky.
To make this easier, Testimonial.to lets you collect text and video testimonials from your customers and embed them on your website without outsourcing any developer or website hosting.
If you're just getting started with your testimonial process, you might like these two articles: