You successfully launched your SaaS business. Although the market may seem crowded, there are simple ways to stand out. One of them includes listing your service on major software review sites since it can magnify your reach and improve your bottom line.
But what are the best SaaS review sites to get on board with? Here is a comprehensive list of the top 17 options.
Top 17 SaaS review sites you must try
TrustRadius
On their platform, users can create profiles to showcase their knowledge and expertise in the field. They also gain points as they grow in the TrustRadius community.
Their research team evaluates every review for quality, depth, and detail publishing them. A reviewer also goes through a multi-step process to ensure all product reviews on the site are authentic.
TrustRadius also boasts an annual community of 12 million visitors, producing and interacting with high-quality review material.
The reviews are data-rich and insightful.
The site's 'TrustMaps' feature allows users to filter products based on their review scores and research frequency.
G2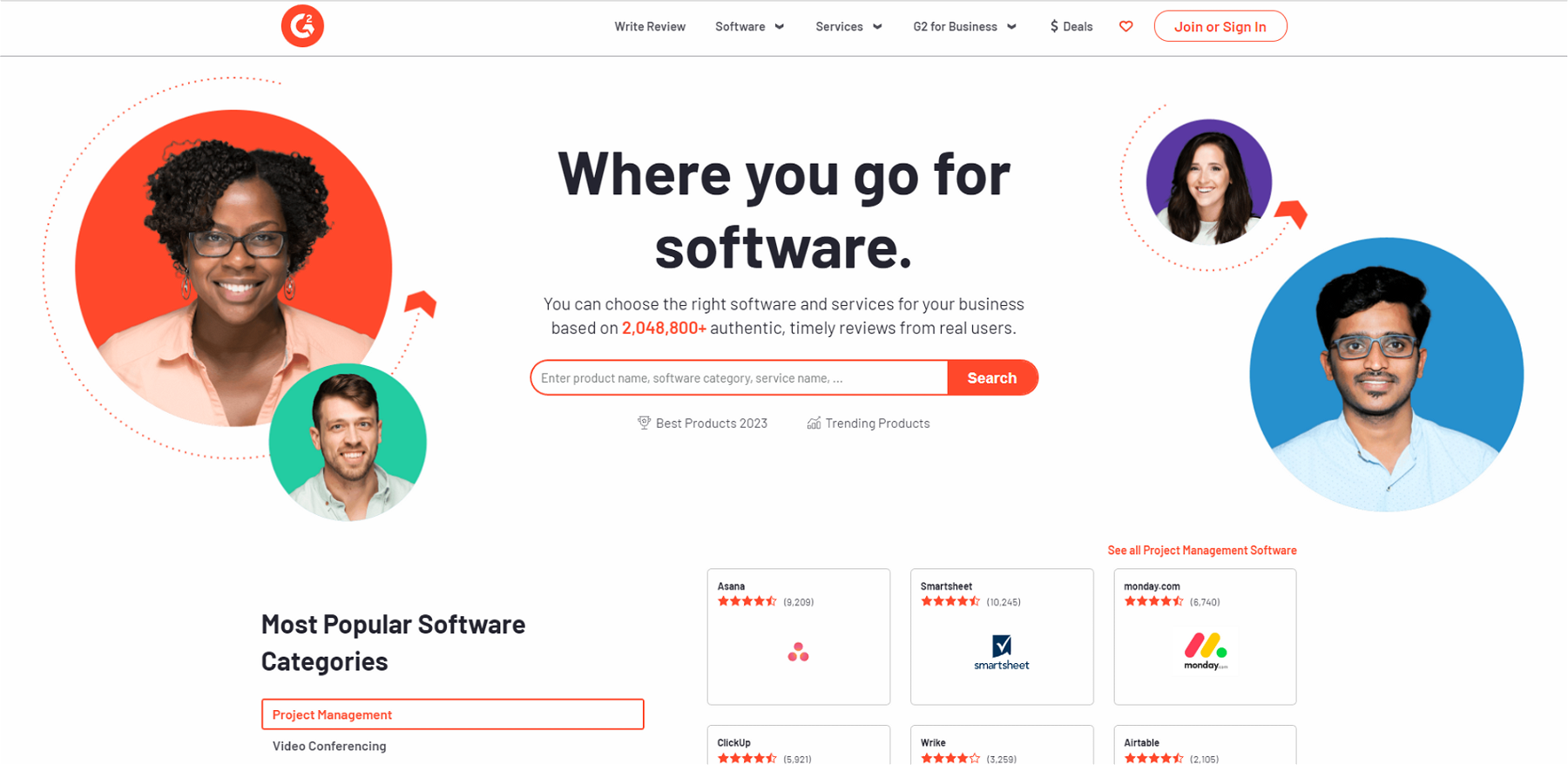 The platform is more focused on business solutions. Companies invest in software after examining reliable data. G2 is popular because, instead of throwing qualitative jargon at the readers, they offer insightful data. Currently, G2 is also getting the highest traffic among SaaS review sites.
The platform also validates reviews to keep the space authentic.
G2 offers in-depth and unbiased reviews of various software products. Their reviews provide valuable insights into the features, benefits, and limitations of each product. This makes it easier for individuals and businesses to make informed decisions when choosing a new product.
The site is easy to navigate and features a user-friendly interface. Users can quickly search for and find the software they're interested in, and the reviews are presented concisely with ratings. This makes it simple for everyone, regardless of technical expertise, to find the information they need.
They are also one of the most trusted and reputable software review sites. This makes their reviews all the more credible.
Product Hunt
Product Hunt lists products in a linear format. Similar to Reddit, the site has a voting and comment system. Each day, the product with the most votes climbs up the list. Product submission is fairly simple here as well. All you need are a product title, URL, and tagline.
High-quality software recommendations
An engaged community of experts and users
User-friendly platform for easy navigation and information access
Capterra

Getting started with Capterra is fairly easy. The reviews are clear and concise. Instead of showcasing anonymous testimonials, the platform features real people and their experience with the product. Every reviewer is vetted and verified. Their team thoroughly scans each review before publishing them.
Wide range of software categories with thorough segmentation
GetApp

The platform has over 1.8 minion monthly users and features 1.9 million+ monthly reviews. GetApp also tells users how they can pursue partnership opportunities with different SaaS providers.
Trustpilot
Users can automate the review collection process and improve their organic search results. With Trustpilot, you can also boost CTR and conversions on paid searches with Google Seller Ratings, and amplify your online presence.
The platform showcases SaaS reviews of all kinds, from products to business solutions. Trustpilot is heavily moderated, and every review is vetted for its authenticity. They showcase data and deliver actionable and objective overviews to companies looking for software solutions.
Gartner
Users get free access to the insight and real-world experience of over 175,000 peers, which helps them choose products consciously. Gartner rigorously verifies every review to deliver the most authentic insights to the viewers.
Reviews are in-depth, detailing features, pros, and cons of every listed product. The platform also lets you explore alternative software and lessons learned at every stage of the buying process.
Software Suggest
The platform has over 800 categories to help you find an effective software solution. Software Suggest also offers free expert consultations to businesses, helping beginners navigate the complexities of SaaS integrations.
SourceForge
Thanks to its global network, SourceForge can help you compare a vast range of intent-driven software, and IT buyers and influencers.
SaasGenius
SaasGenius offers its users features like a recommendation engine, white papers, product reviews, and easy comparisons. Here, users can find top lists of different software, including CRM, remote desktop systems, HRMS, etc. The list is comprehensive, displaying details like trial periods, price models, subscription charges, and more.
Crozdesk
Crozdesk offers hyper-targeted product classifications to help SaaS companies get strong leads matching their ideal buyer persona.
GoodFirms
With over 40,000 authentic reviews and ratings from real customers, GoodFirms help companies make the best business decisions. Creating partnerships is also easy with its extensive list of leading service providers.
Moreover, you can also participate in GoodFirms' in-depth and high-quality research work to stay up to speed with modern SaaS standards.
CompareCamp

The reviews on this platform are detailed, covering important aspects like pricing, pros, cons, and highlight features. They also have comparison reports on top SaaS products.
CompareCamp also presents a comprehensive overview of various markets and topics including trends, opportunities, customer behaviors, and challenges associated with them.
AlternativeTo
TechnologyAdvice
Staying true to its name, TechnologyAdvice offers guidance and connects businesses with the best software vendors. Navigating the complexities of choosing effective SaaS products becomes easy with TechnologyAdvice.
PC Mag Reviews
Fit Small Business
Fit Small Business helps budding SaaS businesses by throwing light on their products, sectors, and services. It offers value-based product information and helps you generate better leads.
To analyze different products, the website relies on industry experts, researchers, and business owners. You can boost your visibility through this platform by leveraging expert opinions.
Import reviews and testimonials from any review site
Don't stress over having reviews scattered across various platforms. Testimonial.to has got you covered!
Once you have imported your reviews, you can easily customize them to match your branding and display them on your website with just a few clicks.