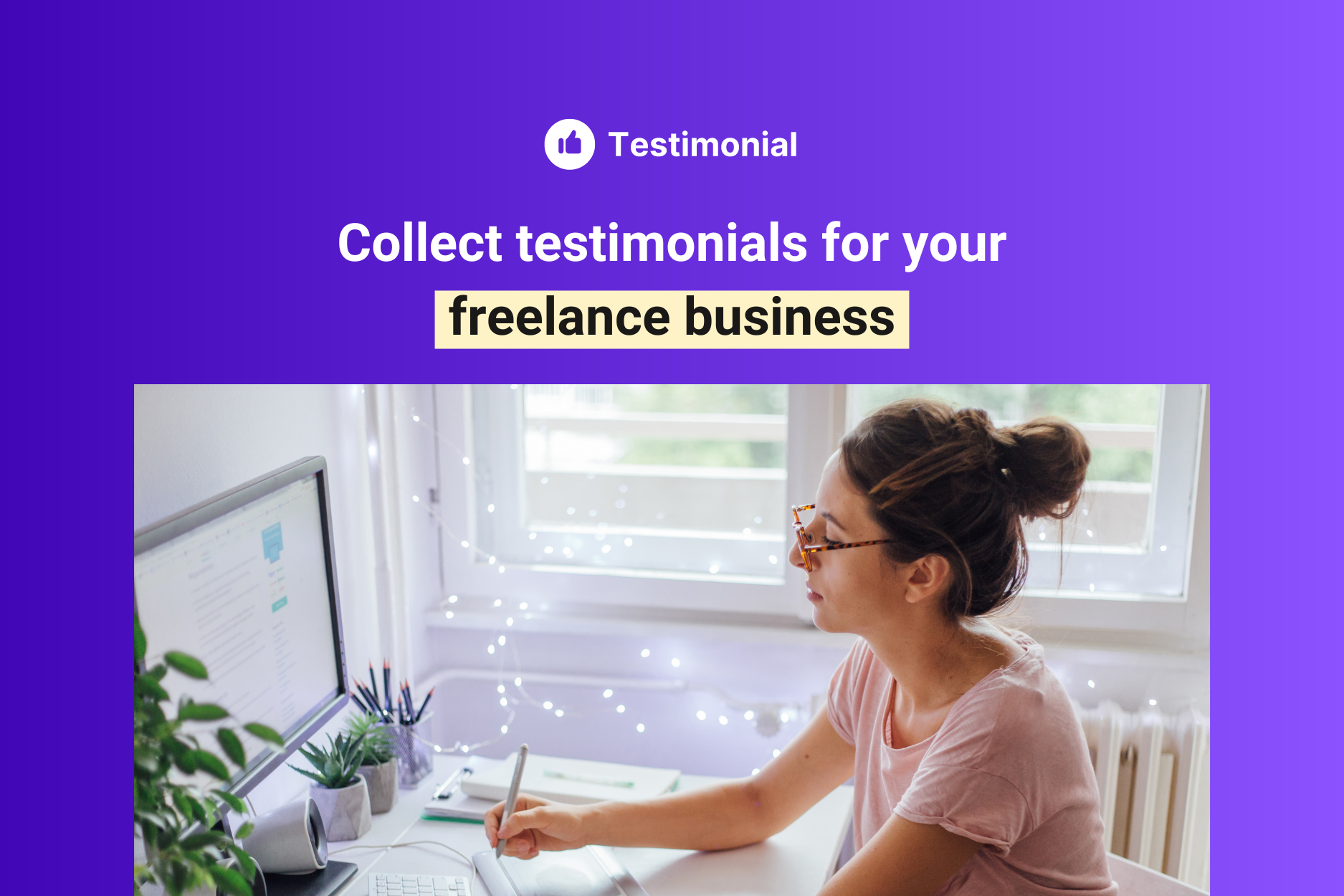 The Gig economy is on the rise with millennials and Gen Z increasingly looking for a way out of the 9 to 5 cycle. According to an Upwork report, freelancing hit an all-time high with
60 million
Americans contributing to these numbers in 2022.
So how do you make prospects choose your freelance business over others? By building credibility with client testimonials.
Here's why testimonials matter — showcasing what you bring to the table is a part of marketing — but they remain claims if you don't support it with positive experiences. So, get your satisfied clients to share their experiences with you. It will let prospects know your capability to meet the project's needs and expectations.
Having an authentic testimonial for your freelance business can instill confidence in potential clients and increase your likelihood of being hired for their next project.
To help you, we have compiled
the ultimate freelancer testimonials guide
to collect and
add social proof
to grow your business.
When to collect testimonials from freelance clients
To get the best and most authentic testimonials, timing is everything. Let's see the best times to ask for testimonials from freelance clients:
After completing a project
The best opportunity to ask for testimonials is right after you wrap up a project. Asking for feedback during an ongoing project may open up opportunities for improvements. These criticisms are necessary for your growth and can result in a far superior testimonial.
So, ask your client to give feedback during the project and a testimonial once you complete the project. This way, you can ensure the testimonial highlights your strengths and looks like an authentic testimonial for a freelance business.
Email your client after one or two weeks of the submission to ask for freelancer testimonials. Mention how much you enjoyed the collaboration and ask if they were satisfied with your work. If they seemed extremely happy with your work, request them for a
video testimonial
describing the project's success and their experience with your work. Such a testimonial is likely to be more detailed and authentic since the work is still fresh in your client's mind.
At the end of a long-term engagement
The end of a long-term collaboration can be a great time to get glowing recommendations — you just need to know how to ask. Once you offboard a client, thank them for trusting you with their project. Then ask if they would provide a few words detailing their experience with your freelance business.
When a client expresses satisfaction with your work
Putting out good work will automatically lead your clients to express their satisfaction. Once they do, thank them and request freelance testimonials like
Michael Eckstein
did
If a client is satisfied enough to praise your work without you asking them, chances are they will leave positive feedback for your website and other freelancer sites as well. Alternatively, you can keep a feedback form ready to share after the completion of each project. It'll help you gauge how happy the client is with your work and whether it is the right time to ask for a testimonial.
How to ask for a testimonial from a client
If you want to get detailed testimonials from freelance clients, mastering how to request them is essential. So, try being strategic while asking.
Here are a few easy ways of capturing testimonials from freelance clients:
What you need to collect
Before you start gathering testimonials, you must know what information you need to collect. This will make the process seamless with relevant information and make it easy for the clients to provide insightful testimonials.
Here is the initial data you need to collect for your freelancer testimonials:
Once you gather the above information, you can design a persuasive request template to request testimonials from freelance clients.
Ask for permission
Not every happy client will take the time to submit testimonials for freelancers. However, you don't always have to ask for them explicitly. When a client shares their feedback, you can use that conversation itself as a positive review.
However, always ask for the client's permission before using the conversation as a testimonial. This will make them feel valued and ensure future collaborations.
Ask key questions
Another practical way of asking for freelancer testimonials is by asking the right questions. The answers will get you detailed content and offer a clear overview of their experience. A set of carefully outlined questions will also direct the narrative of the testimonial and enhance its efficacy.
Asking for a detailed testimonial without any pointers may seem intimidating. So, providing a set of questions will make it easy for them to describe their experience as well.
Here are some questions you may ask:
What was the best part of our collaboration?
How receptive do you think I was in accommodating your requests?
Would you hire my services for your projects again? If yes, why?
Would you recommend me to your peers?
Is there anything else you would like to add?
Can I use your name while publishing this testimonial?
Keep a request template ready
Prepare a standard request email ready and make it customizable.
A well-thought-out
testimonial request template
will help you send it to the client quickly. Make sure you add why you are seeking their testimonial and how you intend to use it.
Offer multiple options
Allowing the client to choose the format of the testimonial will increase your chances of receiving one. Plus, it lets them stay in their comfort zone while still praising your freelance business.
Once your client agrees to provide a testimonial, you can give them the following options:
Film a short video describing their experience with you
Writing 2 to 3 paragraphs describing the success of the project and your contribution to it
Participate in a brief interview
Leave a short testimonial on freelancer review sites of their choice
Simplify testimonial collection for your freelance business
Getting your client to agree on providing a testimonial does not guarantee the process' success. You must make the process as easy as possible to prevent them from dropping out midway.
Here are some measures you can take to simplify your freelancer testimonial collection:
Setup your collecting widget with Testimonial
The fastest and easiest way of collecting client testimonials is by adding a collecting widget on your website. This will allow your customer to leave reviews without going through complicated forms and steps. Collecting widgets will also help you gather reviews from multiple channels and maximize client participation.
With
Testimonial
, you won't need to hire any developer to embed widgets in your emails, across social media channels, and on your website. The entire process takes only a couple of minutes to set up.
Best part?
You can share these via SMS as well.
Ask for LinkedIn recommendations
There is no better platform to showcase your professional prowess than LinkedIn. An active presence on the platform builds your credibility in the freelance circle, grows your network, and helps you find new clients.
So it makes sense to use LinkedIn recommendations as social proof for your business.  All you need to do is send an invitation to your client from the "Recommendations" section on your profile. You may even personalize the request before sending it.
Once they put forth their recommendation, it will be featured in your profile with a link back to the client's profile. You can also showcase these recommendations on your website with Testimonial's
LinkedIn integration
.
Send out a feedback form
Draft a standard feedback form to share with your client every time you complete a project. This will help you gather all the information you need to examine client satisfaction. Besides gathering feedback, these forms will also capture testimonial-worthy opinions.
Moreover, it will act as a post-project survey that helps you improve your craft.
Ask for social media shoutouts
If you have a social media-savvy client base, ask them to give you a shoutout on social media platforms. From a tweet describing their experience to a vibrant Instagram story, testimonials on social media platforms will help you build public credibility and enhance your reach. Remind them to tag you on the shoutout post as well.
You can also encourage your clients to share their reviews via comments on your social media posts. You can capture these comments and showcase them as testimonials on your website.
Ask for feedback, not a testimonial
Requesting a testimonial right after you complete a project may show that you have already assumed your client is happy. Instead of portraying it as a favor, ask for their opinion instead. It will reflect that you value your client's opinion. If the feedback is positive, ‌ask for a testimonial.
Offer an incentive or reward for submitting a testimonial
One of the simplest ways of collecting client testimonials is by motivating their effort. Make it clear in your initial request that there will be a small incentive for every review they leave. It can be a discount they use the next time they seek your services. Offering testimonial exchange is another useful way of sweetening the deal.
Keep track of your favorite review platforms
If you're active here, monitor freelance review platforms like
Upwork
,
LinkedIn
,
Fiverr
, etc. This way, you won't miss testimonials even as your client base grows.
You can easily integrate these platforms with Testimonial and display glowing reviews on your website with no extra effort.
How to use testimonials
Collecting valuable testimonials from freelance clients is not enough to grow your business. You also need to showcase them properly on your website. To help you achieve the best results, here is a guide to feature freelance client reviews:
Display them prominently on your website
While client testimonials are great for building credibility as a freelancer, they only work when you grab a visitor's attention with prominent placement like
Mateo
does it.
Here is what you can do:
Add client quotes on your homepage to give new leads an initial confidence boost.
Include photos and logos of the clients to increase authenticity and grab attention.
Create a separate landing page to showcase testimonials. You can create a Wall of Love and feature video and text-based reviews there to keep the page vibrant. This way, you can avoid cluttering your website with reviews and still leverage all valuable endorsements.
Share them on social media
Building a social media following is one of the best marketing tactics for modern businesses. To enhance your visibility as a freelancer, consider showcasing testimonials on virtual media platforms.
Sharing testimonials from freelance clients on social media will show your capability to potential clients. Prospects will feel confident in hiring you for their projects.
Freelance client testimonials describing the specificities of your contribution will offer a clear insight for your prospects and make them gauge whether you will fit their requirements.
Use them in proposals and pitches
Add freelance client testimonials as part of your pitches and proposals to make them more memorable and persuasive. Choose reviews that are specific and relevant to your lead's field.
With your current client base's seal of approval, you can earn your prospect's trust. They will be more inclined to give you work when they see other experts endorsing your capabilities.
Get more freelancer testimonials…
If you have the passion, discipline, and work ethic, building a freelance business can be a rewarding journey. But to grow in this space, your credibility needs to be bulletproof. Collecting and showcasing testimonials will give this much-needed boost of validation and establish you as the right choice for your prospects.
While we wrap up this freelancer testimonials guide, here are some key takeaways to remember:
Do not nag your clients for a response. If they refuse to submit testimonials, thank them for their time and move on.
Make sure your tone is never demanding and shows humility.
While requesting a testimonial for freelance business, include your learnings from the project as well.
Go through different freelance client testimonial examples to identify what format fits you the best.
With the right attitude, positive approach, and scalable testimonial tools, you can onboard new clients in no time.
To ensure the best outcome, opt for Testimonial. With our platform, embedding testimonials for freelance businesses is easy and only needs a few minutes to complete.