Every product has several alternatives available in the market. With the increasing accessibility of online resources, customers choose services based on customer reviews.
By showcasing your happy customers and talking about their positive experiences, you can effectively remove any last-minute resistance to closing a sale.
Video testimonials deliver authenticity text-based reviews may lack. They serve as personal recommendations to your potential customers and endorse your brand as a reliable business.
Videos are more likely to show genuine reactions and capture customer delight. So, adding video testimonials to your website and other channels takes that effectiveness up a notch.
But how do you produce video testimonials that convey brand credibility efficiently?
To give you an idea of what works, here are five examples of video testimonial advertisements by the top brands 👇
What is testimonial advertising?
Testimonial advertising is putting your customers' words on display in your marketing campaigns. Happy customers talk about their positive experiences, which helps establish a brand's credibility with potential consumers.
Brands can produce testimonial advertising in several forms. However, the most popular ones are text-based and video testimonials.
When brands capture the positive experiences of their satisfied customers in videos, it could result in higher sales. It maximizes the impact of the consumer success stories by narrating them in the customer's own words.
As we mentioned earlier, customers trust what other customers say about products over a brand. Video testimonials give you a chance to use the positive experiences to your advantage. 💪
These ads look more honest to potential shoppers than a strategic brand copy. Any brand will say good things about its own products. But when unbiased customers vouch for the brand's services, it seems more reliable than smart copywriting.
Top 5 video testimonial advertising examples
Video testimonials not only drive better conversion rates but also show specific and tangible results. That's why all the top brands take proactive efforts to showcase their best through video testimonials.
To give you a clearer idea, here are the five best video testimonial advertising examples by different industry frontrunners:
But keep in mind that in most cases, it is just as effective to use a simple setup and have your customers record a testimonial on their own like below with
Testimonial.to
👇
Google
Google started its journey with the mission to make information accessible to everyone. It has come a long way from there and established itself as one of the world's most valuable brands.
Google's services focus on search engine technology, online advertising, cloud computing, computer software, gadgets, AI, the e-commerce industry, etc.
One of the primary reasons for Google's market dominance is its very focused marketing strategy. The tech giant uses video testimonials across different channels to pursue customers.
Google Ads produces video testimonials featuring happy customers detailing their experience with the brand and how it helped them achieve their business goals.
For example, the video above features McKenzie Bauer and Colby Bauer, founders of Thread Wallets. The testimonial starts with the couple detailing their love for adventure and how they saw a lack of realistic carry accessories in the market.
The video gives the viewer context of their business of minimalist adventure accessories. Their journey makes the audience resonate with the testimonial.
The founders also talk about how they faced the challenge of succeeding "in a very competitive market with very tight margins." Then they explain how search ads helped them overcome the roadblocks.
The Bauer couple used phrases like "Search ads really helped us identify where there is opportunity." They also express how the brand made them realize their potential to "go deeper into the wallet category."
The featured clients dive into the business outcomes they achieved through Google ads. In 2020, Thread Wallets "exceeded its top-line revenue goals" with a 58% growth in Black Friday Sales.
Furthermore, through keyword research, they found cross-body bags to be a popular product in their target market and started selling them.
They detail how Google search ads helped them grow from a business of two people to a company of 52 employees, while also acquiring customers who would not have found their products otherwise.
The video works because it doesn't dive into endorsing the brand right away; it takes the viewers through the journey of Thread Wallet's growth. It shows tangible results that Google Ads has helped them achieve. This encourages other brands to opt for Google tools to drive similar business results.
A unique but straightforward take on customer experience helped them control the narrative and improve their numbers.
Apple
One of the world's most famous names in innovation is Apple Inc. The tech giant is not only the world's biggest company by market capitalization but also the second-largest mobile phone manufacturer.
But their superior phones, laptops, and wearable devices are not the only secret behind their phenomenal success. The company is also one of the greatest marketers of all time.
The secret behind Apple's marketing success is the fact that, instead of trying to fit into the norm, the brand embraced its uniqueness. It created an authentic and relatable brand image by breaking through the advertising world early on with its video testimonials.
So when we talk about testimonial advertising examples, Apple is the benchmark many brands aspire to achieve to this day.
Apple developed an incredible grasp on its target audience and used its video testimonials to appeal to the audience's emotions.
Apple's video testimonials from 13 years ago bear evidence of their pioneering marketing techniques. For example, in the above video, Aaron Adams describes why even after being 'a Windows guy', he opted for Apple products.
The video features him saying MacBook offered him a much simpler user experience than he was used to with his Windows computer. The user also states that a MacBook does everything other computers do, only better.
Where the video's appeal lies is even though Mr. Adams is a Windows LAN Administrator, he still prefers Apple over the company he works for. This establishes Apple's superiority as authentic and reliable.
Video testimonials have been a crucial part of Apple's legendary success in marketing. It helped them resonate with their customers by showcasing the experiences of common people. Through its unique approach to testimonial advertisement and holistic marketing, Apple developed a loyal user base through the years. From a company that drove $8.2 billion in revenue in 2004, Apple now has a revenue of
$394.3 billion
in 2022 — and a significant part of the credit goes to their genius use of testimonials in advertising.
Zoom
Throughout the outbreak, Zoom became the saving grace for many companies. It helped businesses maintain a seamless workflow by offering a virtual and efficient meeting platform.
Zoom made video communication frictionless with its virtual meeting features and acquired a notable customer base.
The brand continues to leverage its significant success rate by producing testimonial advertisements featuring its happy clients. Its YouTube channel includes multiple testimonial advertising examples from high-profile clients.
For instance, the above video is one of the most well-produced testimonial advertising examples, featuring various executives of 21st Century Fox (now 20th Century Studios).
For starters, the video delivers the impact of featuring a popular global media company as a client. The executives explain how they deliver content to 195 countries and detail how Zoom helps 40,000 employees of 21st Century Fox seamlessly collaborate through virtual meetings.
The first professional in the video is Doug Goetz, who describes Zoom as a rare tool that's fun to work with. He shares they have clients from all over the world and Zoom has made holding virtual meetings easy for them with a "flawless" user experience.
The CIO of Century Fox, Jeff Dow, explains how Zoom is an inseparable part of his work life by saying, "I use Zoom every day. I couldn't do my job without it." He also highlights how the company used Zoom in the productions of popular franchises like Deadpool, X-Men, and Apes.
Kevin Graziadei, the director of Business Relationship Management at 21st Century Fox, describes how they partnered with Zoom to develop mobile kits which were used to telecast the 2018 FIFA World Cup.
In the above testimonial advertisement example, the brand gets its client to unpack the issues they faced and describe how Zoom helped them reach a solution. The audience gets a holistic view of Zoom's services and the benefits of using it for conducting virtual meetings.
The client stories are detail oriented and versatile, which creates an authentic narrative people can resonate with.
Notion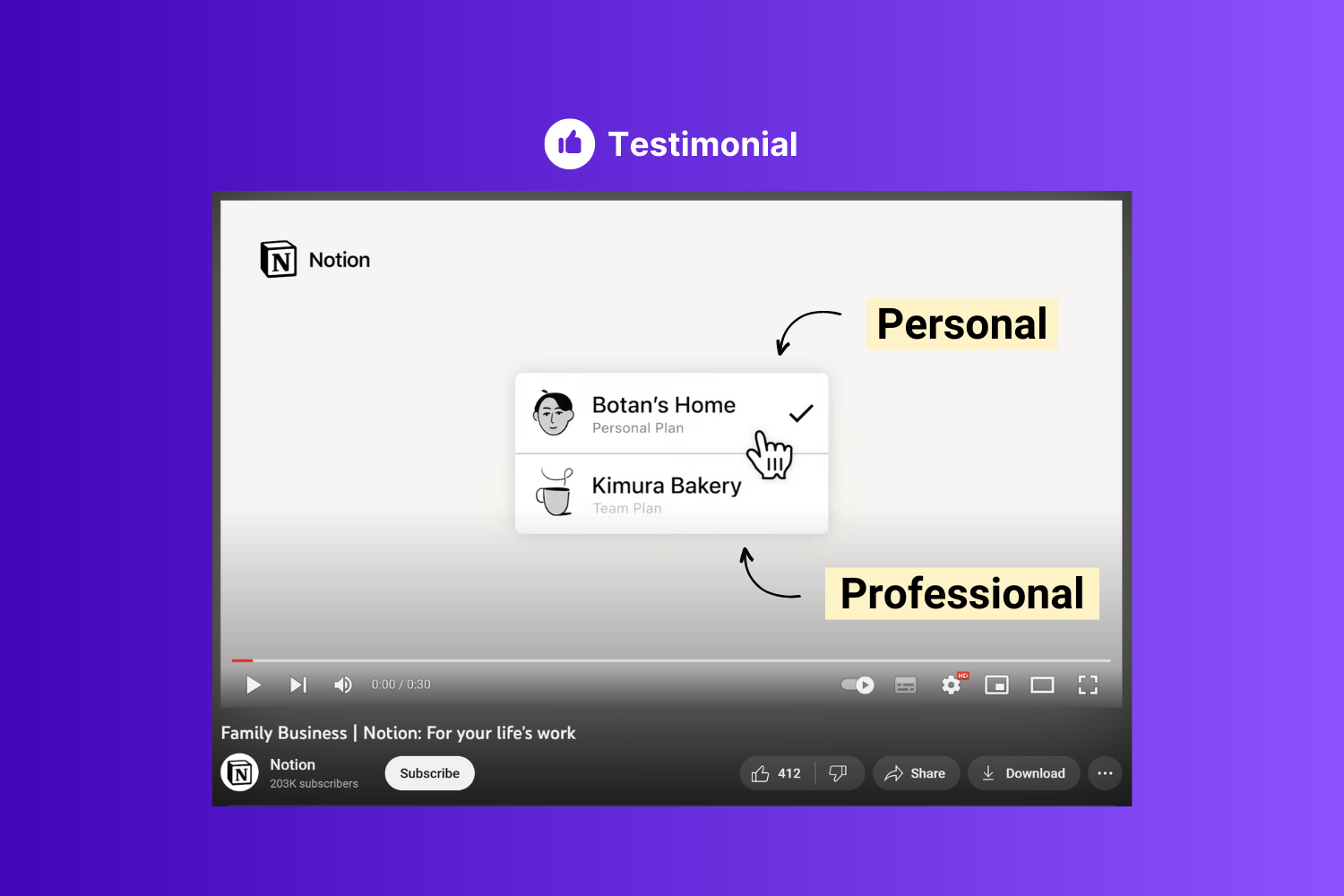 Notion is a productivity and note-taking web application that offers organizational tools, including task management, project tracking, to-do lists, bookmarking, and more. As a collaboration platform, it has become popular among businesses for its seamless organizational features and easy user interface.
But one of the prominent reasons for Notion's successful brand awareness program is its approach to video testimonials. The brand's YouTube channel features several short but entertaining testimonial advertising examples.
In the above video testimonial, Notion features Botan and his experience as a student who is balancing family and work while staying focused on his academic pursuits.
The video starts by showing how Botan has created two different plans through Notion's platform — one for his personal use and one for his family's bakery business. Throughout the video, we see how Notion's task lists help him complete his tasks without missing out on anything important.
The testimonial also shows how people can use Notion to update any element in their record according to their needs. Viewers can see how Botan easily drops notes on Notion while taking a break from his work.
The video is different in its approach from typical testimonial videos. Here, the customer did not talk about his experience with Notion. Instead, the video captured a fraction of his daily work life and showed the viewers how Notion's features made his day easier.
The video is fun to watch and relatable to Notion's target audience. It tells a story within a span of 30 seconds and piques the viewer's interest to explore Notion's features.
Salesforce
Salesforce Inc. is an American cloud-based software company. The brand offers customer relationship management software and applications. The services focus on sales, customer service, marketing automation, analytics, and application development.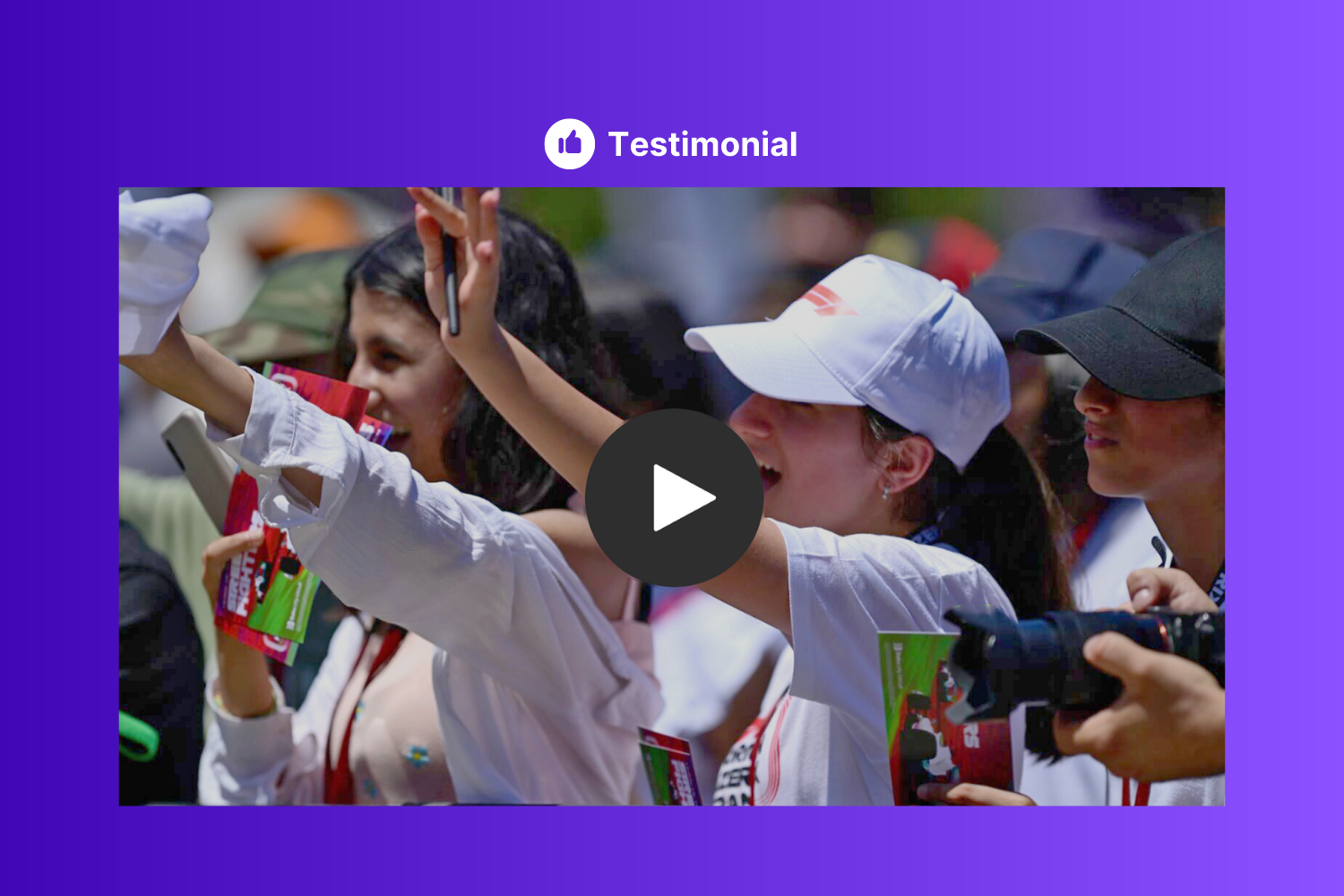 In this particular testimonial advertisement called
The Shift
, Salesforce collaborated with Formula 1 to show how it has transformed into a modern sport. The short video describes how the sport has expanded its footprints and become younger and more diverse, and more inclusive.
In the video, the featured individuals explain how they put proactive marketing efforts to reach a wider audience and transform the sports from "your dad's Formula 1."
The testimonial does not mention Salesforce's services directly. Instead, it takes a more subtle approach to endorsement, focusing on the client. The goal here was to talk about organizations taking on digital transformation successfully during a tough market. The subtle tone made the testimonial authentic while still focusing on its marketing objective.
FAQs regarding Video Testimonial Advertising
Since we've received quite a few questions about Video Testimonial Campaigns over time, let's cover some of your frequently asked questions.
How do I create effective video testimonials? To create effective video testimonials, it's important to choose the right customers or clients to feature, ask them open-ended questions that allow them to share their experiences in their own words, and edit the footage to create a compelling narrative. You can also use tools like Testimonial to make the process simpler ✌️
Where should I use video testimonials? Video testimonials can be used on a variety of platforms, including social media, company websites, and landing pages. You can also feature them within specific products, customer stories, and our favorite, Your Wall of Love.
How do I measure the effectiveness of video testimonials? The effectiveness of video testimonials can be measured through metrics such as engagement rates, conversion rates, and customer feedback. You can set up various a/b testing on your website to see which testimonials are working best for you!
Should video testimonials be scripted? While a general outline may be helpful, it's best to avoid scripting video testimonials. The goal is to capture genuine, authentic feedback from customers that will resonate with potential customers.
How long should video testimonials be? Video testimonials should be long enough to provide valuable feedback, but short enough to hold the viewer's attention. Generally, a length of 30 seconds to 2 minutes is recommended.
How can I encourage customers to provide video testimonials? To encourage customers to provide video testimonials, consider offering incentives such as discounts or free products. It's also helpful to make the process as easy as possible by providing clear instructions and a simple way to submit the video. Lastly, you can automate the entire process, we cover more about that here.
Wrapping up…
Every brand has something unique about it. Top brands stand out by reflecting those USPs through their client's experiences.
In the above examples, we saw how Google pushes a more traditional testimonial style while Salesforce takes on a more subtle approach.
No matter what narrative style you choose, your testimonial advertisement must align with your brand's aesthetic.
Here are some tips to consider:
Try to include multiple viewpoints
Always ensure high picture quality for your videos
Include appealing thumbnails that accurately represent the testimonial
Keep it brief and include quantifiable results
Gathering customer testimonials that really work can seem difficult. That's where Testimonial.to can help. You can gather both text and video reviews from your customers in minutes without a developer or website hosting.